WORKWEAR: MICHELE MONTAGNA'S ADVICE
PPE AND WORKWEAR IN U-POWER TOTAL LOOK TO WORK IN SAFETY
Often, when we talk about workwear, we think of office wear, of the first impression we must give if we have to meet a customer and we rarely think about those who work on site or in workshops.
However, workwear for those who work on building sites, for mechanics and electricians, just to name a few professions, must meet protection and safety requirements that affect not only performance but also the perception of calm and concentration while working.
We addressed the topic in an interview with Dr. Michele Montagna.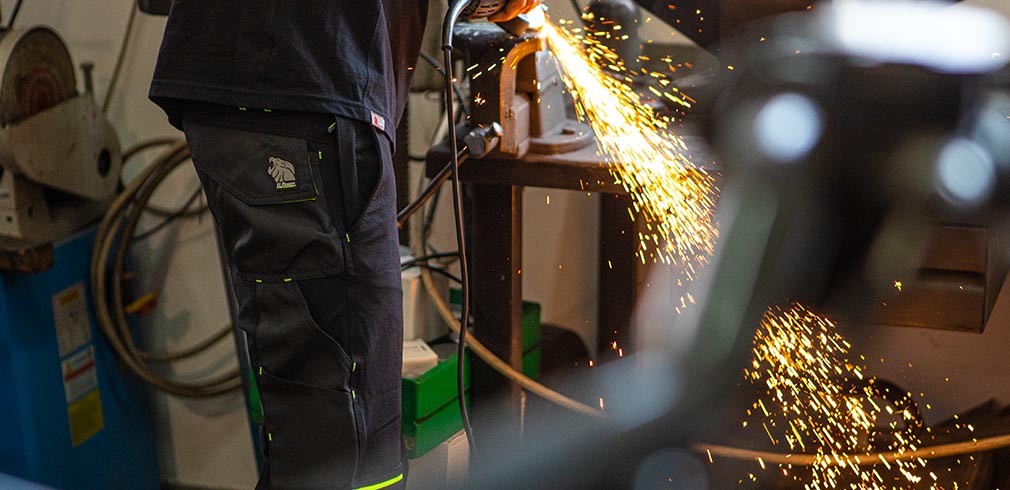 How to choose the most suitable workwear and safety shoes for your profession?
What features should never be missing?
U-Power is a reference point for workers who want to equip themselves with personal protective equipment and are looking for safety and protection. A technical clothing that must comply with strict criteria for the selection of materials, design and tests, to offer maximum support and guarantee of performance even in adverse conditions.
Let's see with Michele Montagna what the ideal workwear looks like in U-Power Total Look.
Let's explore the topic of our interview with Michele Montagna.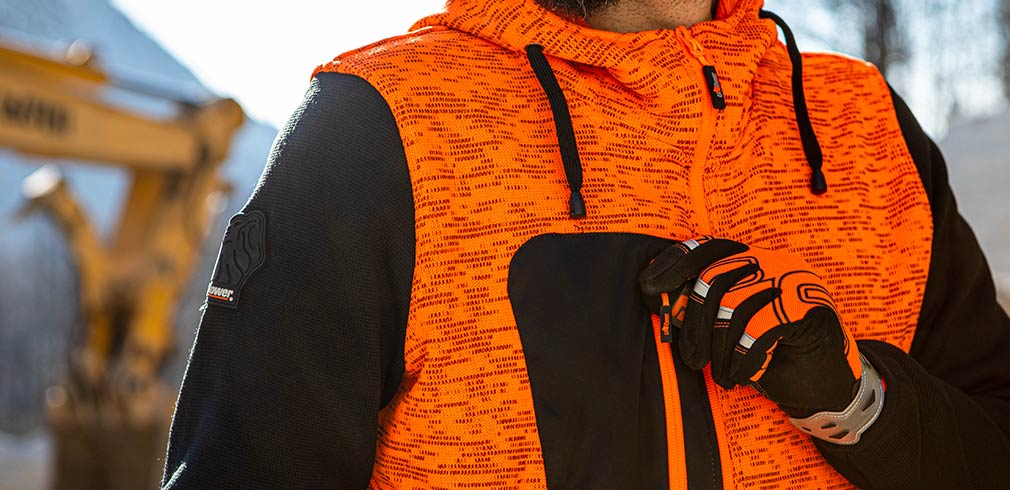 Editorial staff
"Hello Michele, thank you for this interview, with which we want to address the issue of workwear, safety and comfort for the worker."
Michele
"Thank you for this opportunity to highlight the importance of workwear and the features of protection, safety and comfort necessary to protect the worker."
Editorial staff
""Worker protection", the topic is broad; and you, being Professor of Ergonomics, Prevention and Treatment of Muscle Skeletal Disorders at Work and Certified Occupational Health and Safety Trainer, as well as a Kinesiologist and Posturologist, you will certainly be able to give our readers the right advice to consciously choose their PPE and workwear.
What are the features that should never be missing?"
Michele
"The first piece of advice is to choose clothing suitable for your specific work: soft, warm, breathable and able to ensure freedom of movement taking into account both ergonomics and the work environment.
And, of course, work shoes in the protection class suitable for your job and for the right working condition.
Furthermore, it is important to choose technical clothing because it is designed with a view to protection, paying special attention to materials, functionality and responding to requirements and tests to ensure high performance even in the most difficult conditions.
If the worker feels comfortable in the clothes they wear, they will be able to pay more attention and be concentrated on their work, thus making them more aware and attentive to potential risk factors in the short, medium and long term.
Choosing technologically advanced work clothing means going in the direction of safety from potential harmful events, even of an emotional nature.
This is why choosing U-Power shoes and workwear is a guarantee, because the technologies used respond exactly to specific needs in terms of ergonomics."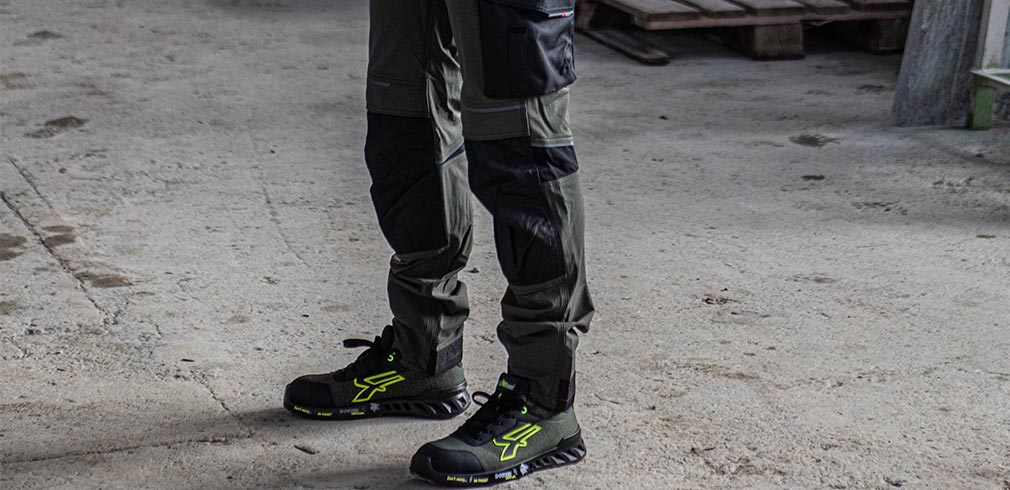 Editorial staff
"Michele, you are right: a well-equipped worker works better and safer, preserving their well-being, both present and future.
How about making some examples in Total Look U-Power?"
Michele
"Let's start with trousers and talk about the ATOM model.
These work trousers use U-4 way stretch technology, a technology conceived against discomfort caused by uncomfortable, annoying and awkward working postures, with a soft and comfortable semi-elastic fabric that moves in 4 directions at the same time and that guarantees full freedom of movement, even in difficult conditions such as, for example, when handling loads.
But also kneeling, climbing, bending and performing all those movements that overload the knees day after day; this is no longer a problem, thanks to U-4 technology. U-4 Way stretch helps to reduce muscle contraction and hardening of the connective-fibrous bands that particularly involve the joints.
In fact, U-4 technology ensures a physical functionality that, inevitably, also involves the psychological sphere, with a greater concentration and attention and, therefore, more efficiency, resistance to physical efforts, reduction of risk factors linked to accidents and, at the same time, an improvement in peripheral circulation, both during work and when travelling in vehicles."
Editorial staff
"So, the elasticity of the fabric in four directions is a feature that can make a big difference and you have well explained why. But what can you say about the functionality and practicality of the ATOM trousers?"
Michele
"The fit and functionality are optimised thanks to many details:
✔ Water-repellent, breathable and quick-drying fabric;
✔ Waist adjustment with concealed elastic, yoke;
✔ Back yoke accentuated for greater comfort;
✔ 2 pockets for knee pads;
✔ 2 zipped pockets in proximity of large side pocket and front, right pocket;
✔ Multifunctional pocket with concealed swipe-card holder;
✔ 2 large front pockets;
✔ 2 rear pockets, one with flap and one with Velcro closure.
In addition, there are reinforcements in Poly-oxford 600D in the areas most subjected to wear stress and a softer weave in the back of the knee to favour knee bends in favour of circulation.
In short, ATOM is a perfect example of high-tech work trousers that fully meet the needs of movement, comfort and functionality."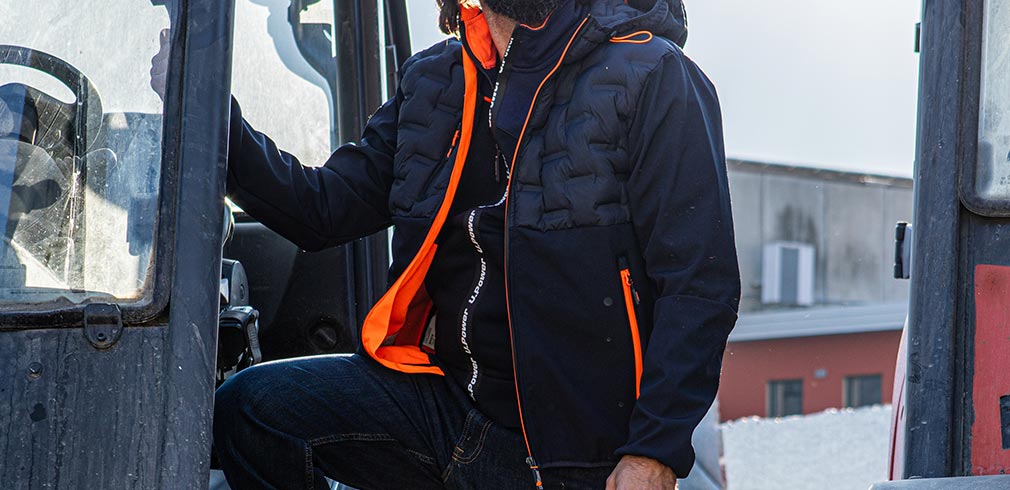 Editorial staff
"And as for the upper body, what tips can you give for ideal workwear in Total Look U-Power?"
Michele
"For the torso and upper body, I recommend wearing layers, in order to allow the worker to add or remove them according to their perception of well-being, both in case of excess heat or temperatures that change as they performs their task in a closed place with an external work environment.
Therefore, I recommend wearing a T-Shirt, such as, for example, ALIEN, a long-sleeved T-Shirt, 100% cotton with slim fit, ideal under a sweatshirt or under a jacket.
Then, you can't go without a comfortable work sweatshirt, such as JUPITER, a sweatshirt with zipper and adjustable hood, able to offer protection from external agents such as wind, rain and humidity. The two oblique-cut pockets are a design feature that favours an ergonomic fit that respects physiological lines and geometries.
And finally, the jacket. An ergonomic work jacket is ideal for all professional activities that take place outdoors and must be breathable, windproof and water-repellent.
The SPOCK jacket is an extremely versatile hybrid jacket, with quilted down on the chest and inner lining in nylon and microfleece, which is well suited for both cold and mild climates. It is the ideal jacket for those categories of workers who carry out dynamic jobs and who need good freedom of movement of the arms, shoulders and back.
Furthermore, the hood, - fixed and adjustable - is a detail that no worker who works outdoors can do without, because the head and neck are the main responsible for heat dispersion.
Keeping your head sheltered from the wind and cold, when necessary, reduces the lowering of body temperature and, consequently, also reduces the work of the metabolism to generate heat, with a saving of calories consumed.
Finally, SPOCK, thanks to its many pockets - five in total - allows you to carry tools, keys, mobile phones and various accessories with you, keeping your hands free and work in complete safety."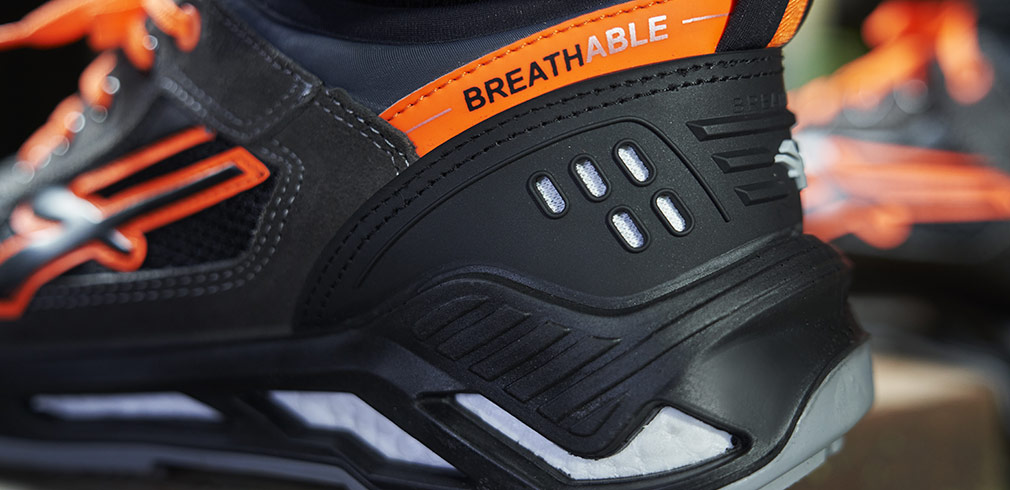 Editorial staff
"How do we complete our ideal workwear in U-Power Total Look?"
Michele
"We can complete it with one of the most important PPE for worker safety: safety shoes which, of course, must be chosen in the protection class suitable for each one's duties and in consideration of the work environment.
But even in this case, technology offers a great contribution and can make a big difference in terms of ergonomics and worker safety.
And today, based on the tests I have carried out, I am suggesting a real technology concentrate: RYDER shoes of the RED 360 line.
There are three great novelties with these safety shoes:
✔ The antishock heel, waterproof and breathable, placed under the heel that favours the stabilisation and safety of the foot, counteracting the stress caused by small bumps and pressures;
✔ The collar with Lycra® fibre fabric, , which wraps the foot 360° in the sub-malleolar portion, giving greater comfort during flexion-extension of the foot. A soft and elastic collar for the benefit of the mobility of the ankles;
✔ Ergonomic front and rear eyelets that guarantee an easy fit and that allow the shoe to be worn quickly and easily.
And then, of course, the Infinergy® insert for energy recovery and the high-grip tread, about which we have already talked in an earlier interview. Even the WOW insole - an ergonomic insole with self-moulding properties - guarantees the optimal distribution of body weight and, therefore, of the biomechanical load on the foot and joints, with a result of greater comfort and safety."
Editorial staff
"How important are work socks, as part of an ideal workwear set?"
Michele
"Work socks are very important and have a great influence on the well-being and health of the foot. Unfortunately, they are often underestimated but, in reality, they too contribute to safety and the perception of comfort and thermoregulation.
GIADY socks, for example, use the "Memory size" technology that allows the sock to adapt to the shape of the foot, maintaining it over time.
Thanks to this, the sock feels like a glove, while the special weight of the cotton guarantees a cushioning effect and reduces the risk of blisters and irritation on the sole of the foot, toes and heel.
Work socks appropriate for season, material and technology used, together with the breathability of the inner lining of the shoe - WingTex with air tunnel - and the characteristics of the upper of the shoe being worn - in the case of the RYDER shoe, an upper in soft suede with ultra-breathable nylon inserts - define the perception of heat and thermoregulation with subsequent foot health."
Editorial staff
"Michele, thank you for giving us an ergonomic view of workwear with an eye also to the prevention of musculoskeletal disorders at work, and for the valuable advice provided."
U-Power: prevention, health and safety of the worker.
Dear reader, we hope you enjoyed the article.
If you want to deepen the subject and want more information, do not hesitate to contact us using the form below. Our technical staff will be happy to answer to your questions as soon as possible.
You ask, U-POWER, answer!