WAREHOUSE WORKER & LOGISTICS: WHICH WORK SHOES TO USE?
SAFETY SHOES PROTECT, TECHNOLOGY PREVENTS MUSCLE PAIN
Warehouse worker has always been one of the most popular jobs, as regards both supply and demand.
But what exactly does a warehouse worker do and why is it such a popular job?
Today, companies are looking not only for good workers, but also for professionals specialised in warehouse management and the role of the warehouse worker is undoubtedly that of a person who performs many different functions: crucial steps in the production phase as well as in the final phase of delivery and shipment.
A job that requires moving constantly and handling loads: how to protect feet and legs from muscle fatigue and the danger of accidental falls of packages on the feet?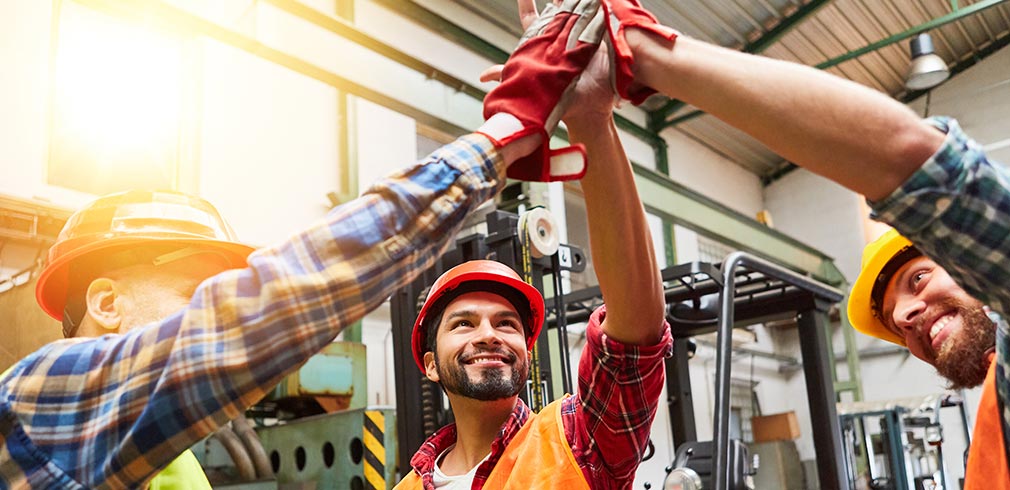 Working in Logistics and as a warehouse worker means performing many functions that require moving, short or long journeys, standing for long periods and continuously handling packages, between shelves and forklifts in motion.
Personal Protective Equipment has an important function: to protect the worker. Safety shoes and toecaps are extremely important because they must protect against the accidental fall of a package or weights on the front of the foot.
However, what are the other characteristics that a work shoe must have for those who work as warehouse workers?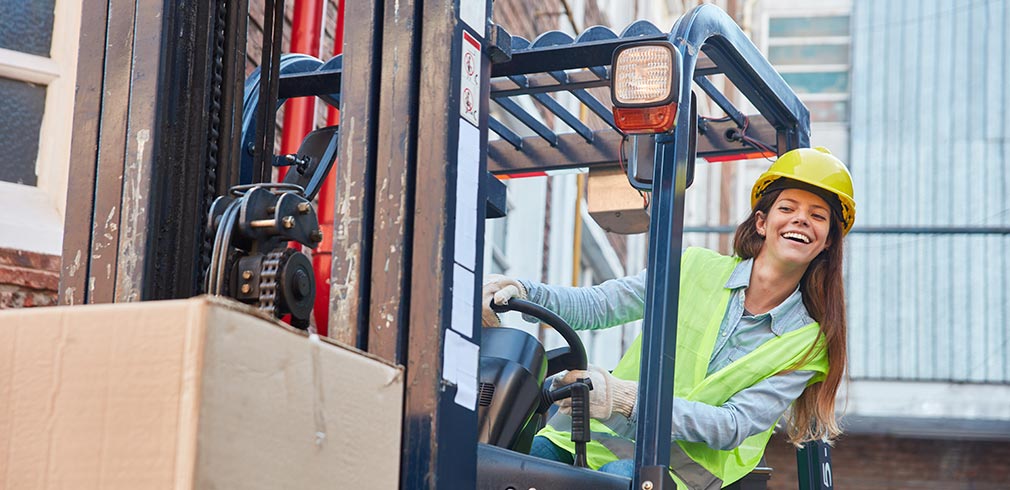 A warehouse worker is the professional who, together with other colleagues, has the task of managing the warehouse and everything pertaining to it, starting from the receipt, storage and shipment of goods.
To better understand the context, try to close your eyes and imagine you are in a department store, full of shelves, boxes, cartons, raw materials, components and many people moving, forklifts in motion: here you are, welcome to the world of the warehouse worker!
When you look at it this way, it seems a dynamic work but, in the end, not too complex; instead, it is one of the most heterogeneous professions in the world of work.
Specifically, the warehouse worker receives and inspects the goods, arranges for storage, organises picking & packing operations, manages collections, prepares the products, takes inventory and checks stocks. And, depending on the work to be done at a given moment, they can stand or sit for a long time, in contact with forklifts and moving packages.
In these cases, High Visibility clothing and work shoes with toecaps are essential:
✔ High Visibility clothing is needed because it makes the worker visible when they are near moving vehicles and forklifts;
✔ Safety shoes are needed because they protect the tip of the foot and avoid injuries due to accidental falls of packages.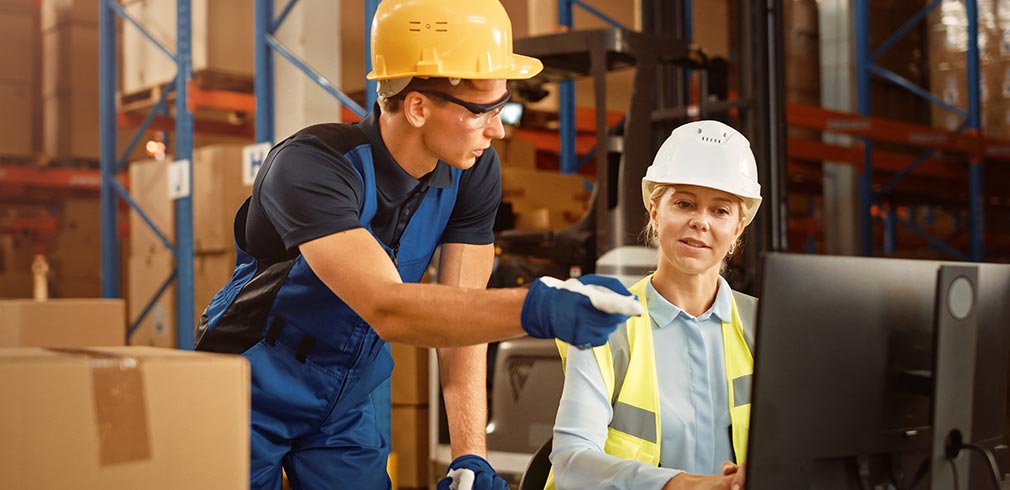 Today, Logistics employs approximately 2.5 million people in Italy and 4 out of 5 operators are employed as forklift drivers, preparers, wrappers or packers.
However, while it seems that this profession does not require a lot of training, it is the people with the most skills who are destined to make a career in warehouse management and logistics.
Over time, the operational organisation within companies has become increasingly efficient, including the warehouse. This has led to the emergence of new jobs that require training and expertise.
Here are the 5 most requested skills of a warehouse worker today:
✔ Have a good administration base and knowledge of the main management and product code reading software;
✔ Be familiar with driving forklifts, pallet trucks, etc. (it is one of the most requested skills!);
✔ Know foreign languages: helps in relations with transporters, customers and suppliers;
✔ Precision and meticulousness;
✔ Ability to work independently.
In all cases, regardless of your specific job, never forget to use appropriate work clothing and shoes.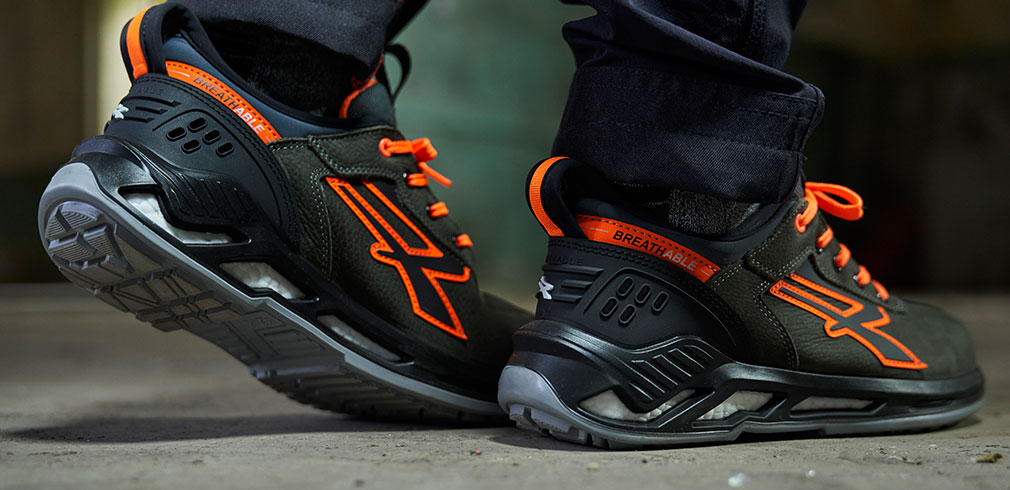 The European Regulations are very clear as far as the safety of the worker is concerned and, in the case of handling loads and weights, shoes with toecaps become an essential requirement.
The U-Power toe cap, in addition to protecting the foot from crushing danger, also responds to the need to have breathable safety shoes, allowing the elimination of sweat in the form of water vapour.
Ryder shoes of the RED 360 line are equipped with aluminium Airtoe toecap which weighs only 54 gr., ensuring lightness to the shoe.
However, for those who work in constant motion it is equally important to use work shoes that use a technology capable of returning energy and, at the same time, preventing and alleviate joint and muscle stress.
Ryder shoes use an Infinergy® insert which allows to store energy at each step and return it when the foot is off the ground. An anti-gravity push that offers great benefits to muscles and blood circulation, not only of the legs but also of the spine with an improved sense of well-being.
RED 360 are a concentrate of energy that improves comfort and safety, thanks also to the heel with shield technology, breathable and waterproof, and the multidirectional tread that increase grip and increase stability.
Ryder is equipped with Lycra® fibre fabric collar that guarantees a snug fit and two eyelets on the heel and tongue that facilitates the insertion of the foot into the shoe.
Your workdays seem shorter when you wear a RED 360,what are you waiting for? Try them!
U-Power, your partner at work.

Dear reader, we hope you enjoyed the article.
If you want to deepen the subject and want more information, do not hesitate to contact us using the form below. Our technical staff will be happy to answer to your questions as soon as possible.
You ask, U-POWER, answer!