THE LIGHTEST ACCIDENT PREVENTION U-POWER SHOES? RED LEVE!
LIGHTWEIGHT SAFETY FOOTWEAR FOR HIGH PERFORMANCE AND MAXIMUM SAFETY
Over the years many workers can develop musculoskeletal occupational diseases which can compromise some neuro-muscular functions.
How to overcome these work-related risks? What can we do?
Let's discuss with Michele Montagna: Kinesiologist and posturologist, Professor of Sports Science, Professor of Ergonomics, Prevention and Treatment of Occupational Musculoskeletal Disorders ; Certified as Health and Workplace Safety Trainer.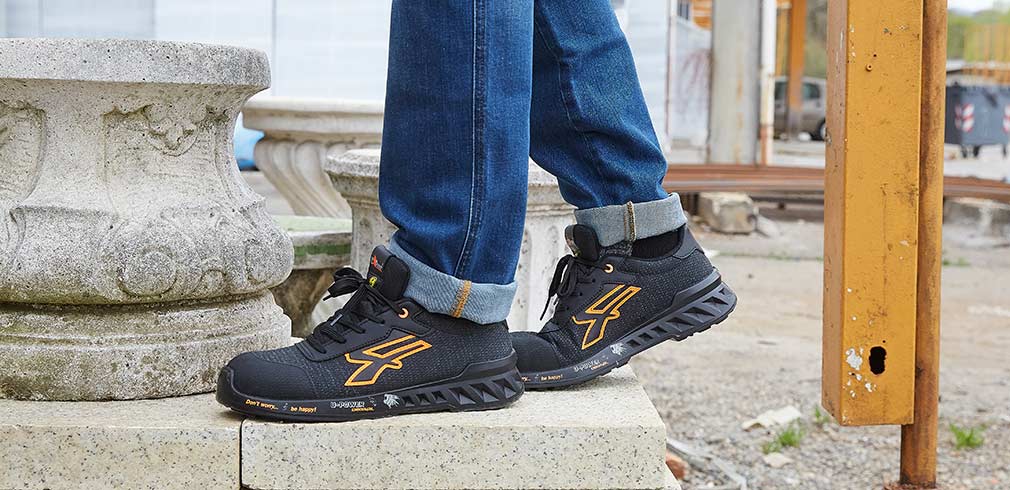 Safety shoes are considered an essential personal protective equipment to give workers peace of mind, and today safety footwear can address the discrete needs of consumers thanks to the use of highly-performing innovative technologies that can meet a variety of requirements.
Even the weight - compared to traditional footwear - has improved over time but, in recent years, the introduction of new extra light materials made it possible to make work footwear even lighter, while also preserving all the safety features required by European legislations.
Let's discover together the advantages of ultralight safety shoes.
Let's discover all the advantages of Red Leve!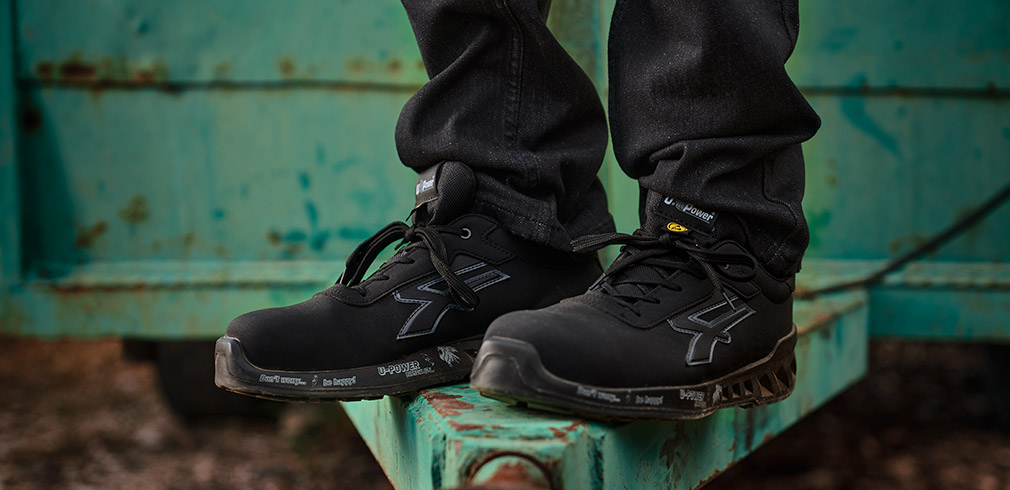 Some professions, due to their very nature - such as, for example, warehouse operator, builder or other work performed on construction sites, workers in car shops or assembly lines – are more exposed than other categories to the risk of developing occupational diseases that mostly affect the musculoskeletal systems and, over time, can compromise some neuro-muscular functions, such as:
✔ Reduction of strength and resistance;
✔ Tone alteration and trophism;
✔ Dysfunction of the main kinetic chains.
Lighter safety footwear – intended as the total weight of the shoes – can help prevent potential risk factors in the short, medium and long term by positively influencing workers' health.
In particular, lighter safety footwear facilitates motion and ensures greater ease of movement, creating less friction on the feet and legs during activities and movements.
This also means calorie savings as well more energy, for the benefit of the body and the energy level at the end of working day.
But safety must be guaranteed, and lighter safety shoes must comply with all the standards provided for in European legislation, as defined on the basis of the reference protection class.
It is precisely with the objective of addressing these needs that the new range of RED LEVE safety shoes is born, a wide variety of styles that make use of highly performing innovative materials that guarantee safety, comfort, durability, style and design.
But what are the innovative materials that have allowed reducing the weight of the shoe?
U-Power used a new generation PU compound for the sole and the tread, a new ultralight perforation-resistant Save & Flex Air system and a new insole made of U-Power Original polyurethane material, which is lighter than the traditional insole.
This innovative technological mix facilitates and allows:
✔ A lighter step;
✔ Greater ease of movement of legs;
✔ A more flexible spine.
In essence, the musculoskeletal system will be less stressed and benefit from the safety shoes on a systemic level.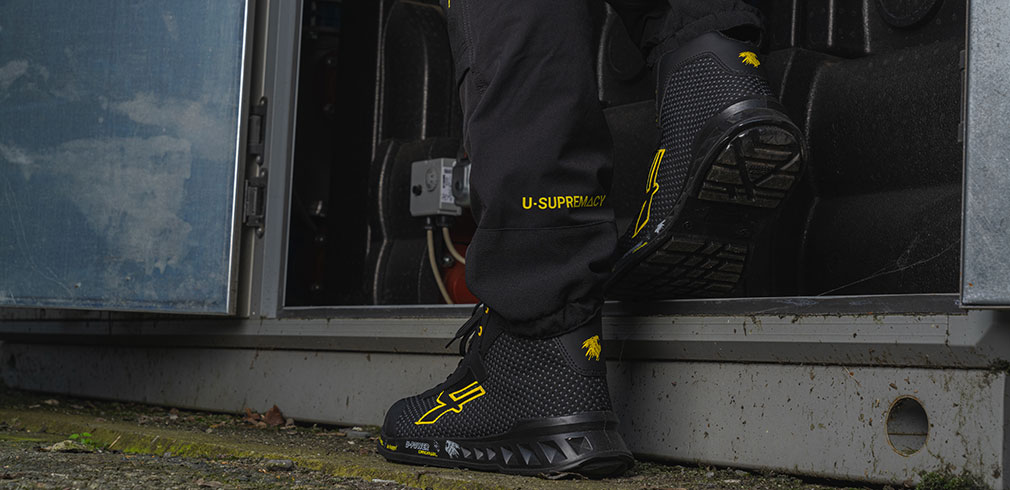 The RED LEVE range stands out, at first glance, for its sole, which includes special cleats.
The geometry of these cleats has been carefully studied to reduce any mechanical stress created by resistance to the ground, under the body weight during use.
This means creating a more elastic, light and comfortable sole, while also preserving all the protection features.
The ergonomic properties for the RED LEVE safety shoes are traced back to the ultralight PU polymers of sole and tread.
The polymer used is able to dissipate not only kinematic stress, but also to return an energy component capable of sensitising the neuro-muscular system.
The characteristics are enhanced by the presence of new light insole made of U-Power Original polyurethane, which distributes the weight on the entire sole of foot and heel, supported - in its anatomical position - especially during the handling of loads.
In short, for U-Power, safety always starts with materials and design, and the RED LEVE range offers styles suitable for every need: high and low safety shoes, all season safety footwear, with lighter or more protective breathable uppers and water-repellent properties.
15 styles to discover!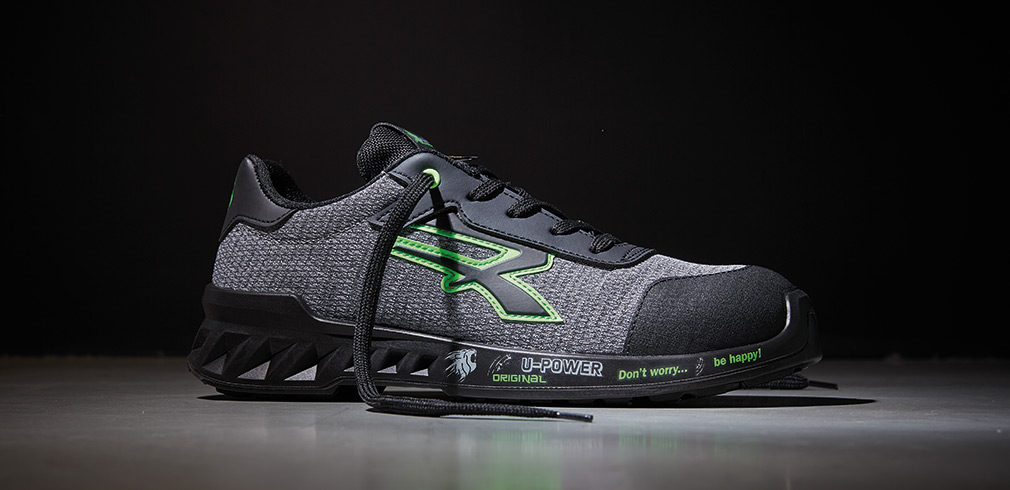 New extra light materials for ultralight safety shoes, but with the usual safety!
You can choose from S1P SRC ESD styles and S3 SRC CI ESD shoes with the certainty that you have highly performing safety shoes with Airtoe® Aluminium toecap to protect the toe, and the new Save & Flex Air perforation-resistant system that protects from nails and splinters.
The WingTex lining ultra-breathable air tunnel guarantees the ideal micro-climate, dispersing excess moisture and preventing blisters and skin lesions that would compromise:
✔ Posture;
✔ Movements;
✔ Health.
In addition, you can choose between different uppers: from the coolest Airnet® of the TONY, style, which is ideal for summer, to the models with Putek® Star upper, which are highly resistant to abrasion, like the MATT or JOE. Or, you can choose shoes with breathable nylon upper like the MIKE, or made with soft micro-fiber, like the PARKER.
In any case, whatever your favourite style is, you will find that you have extremely light footwear on your feet that help you work better and in complete safety.
Comparing the characteristics of the RED LEVE shoes, from the tests performed by Dr. Michele Montagna, we can state that the habitual use of cutting-edge technologies for footwear and workwear is able to reduce exponentially the potential risk factors in the short, medium and long term, and improve workers' health.
Walk with elasticity and safety - in complete lightness - now you can!
Choose responsibly, choose RED LEVE!
DON'T WORRY…BE HAPPY, CON U-POWER
Dear reader, we hope you enjoyed the article.
If you want to deepen the subject and want more information, do not hesitate to contact us using the form below. Our technical staff will be happy to answer to your questions as soon as possible.
You ask, U-POWER, answer!