U-POWER IS TECHNICAL AND ECO-SUSTAINABLE WORKWEAR
INNOVATIVE TECHNOLOGICAL FABRICS FOR HIGH PERFORMANCE WORKWEAR
The advent of new technologies and innovative materials has promoted, in recent years, a significant improvement in the working conditions of all those who must habitually use personal protective equipment.
Furthermore, the optimisation of production processes is increasingly leading companies to environmentally friendly production through the use of recycled materials or materials obtained from renewable sources, and the control of CO2 emissions.
Hence, our offer of highly performing cutting-edge safety shoes and workwear.
Let's take a look at the latest products.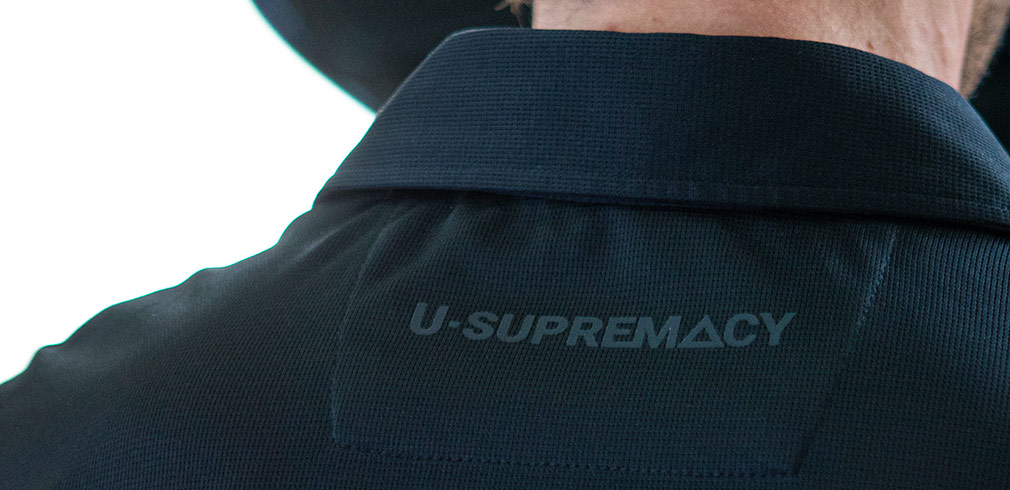 U-Power has always been at the forefront to offer its consumers safety shoes and workwear that meet even more accurately protection and comfort requirements.
It is with innovation and continuous attention to consumers that U-Power offers workwear – T-Shirts, polo shirts and work sweatshirts – that revolutionise the concept of well-being, at work and during leisure activities.
Let's discover the new proposals in greater detail.
Read the article to learn more!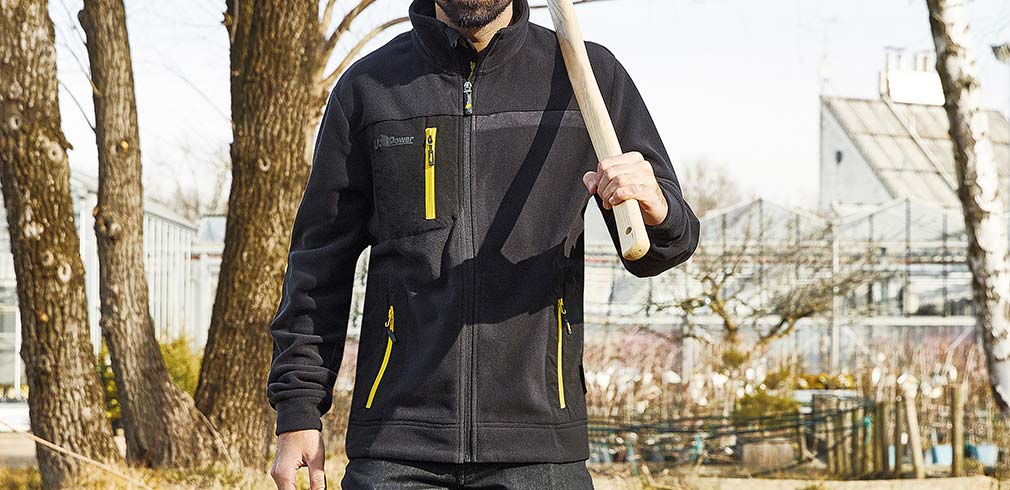 When it comes to eco-sustainable fabrics one might think of lower quality fabrics than traditional ones, with subpar performance when it comes to durability, comfort and protection, especially in the accident prevention field.
This assumption is completely inaccurate. Indeed, Research & Development has recently achieved extraordinary results, offering highly performing materials with characteristics identical to traditional materials.
Such is the case of Polartec Eco-Engineering fabric, the micro-fleece used in the VENUS work sweatshirt from the U-Supremacy range, a ultra-high-quality eco-sustainable sweatshirt.
Polartec Eco-engineering is an innovative fabric made from 100% recycled material from reprocessed plastic bottles, and produced according to optimised criteria that avoid waste and minimise CO2 emissions.
This warm and soft microfleece ensures the right microclimate on the skin and makes VENUS ideal both as an under-jacket – in winter – and a sweatshirt to wear over a polo shirt or a T-shirt, especially in spring and fall.
The design makes this style not only suitable for work but also for leisure, thanks to its casual and sporty line. Moreover, Polartec is an extremely robust and resistant fabric, while durability is ensured by the reinforcements in contrast stretch material on pockets, forearm and bottom (inner side).
The three pockets - two of which on the bottom and one vertical, on the chest - are all zippered.
VENUS is available in different colours, all to be discovered.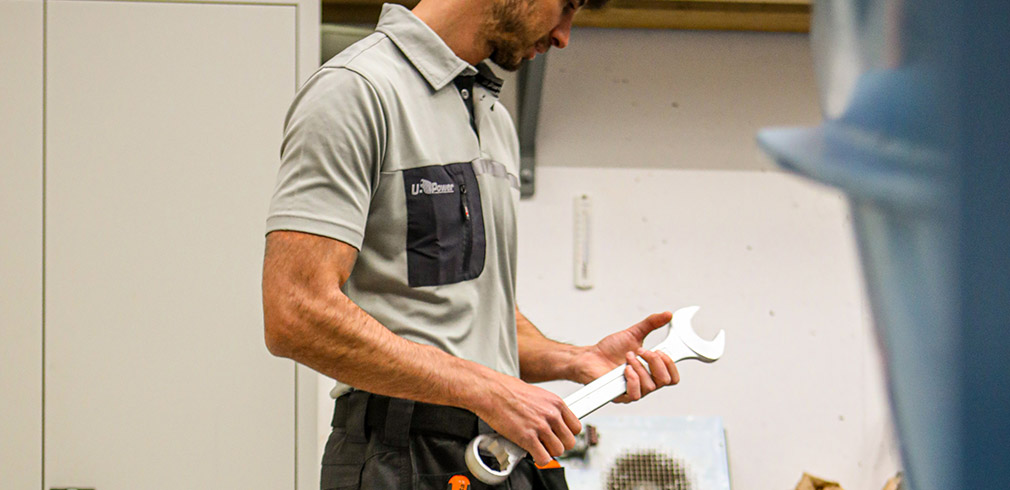 How many times have you noticed a bad smell on your shirt even if freshly washed, or noticed unsightly halos along the sleeve contour? It happens to everybody.
This very common problem is caused by sweat and the proliferation of microbes, bacteria and moulds. It is not only a question of "aesthetics", but also of hygiene.
U-Power offers you workwear with highly performing innovative technology guaranteed for the entire life of the product.
Work T-shirts and polo shirts with HeiQ Pure technology, a treatment that relies on a biocide to protect fabrics from microbes and germs in order to guarantee greater freshness. An antimicrobial technology that guarantees a cleaner and fresher fabric that lasts longer, without altering breathability, colour and softness to the touch.
Let's see more in detail the LIBRA short-sleeved polo shirt.
Men's polo shirt with vertical zipped pocket on the chest with contrasting stretch fabric.
A work polo shirt available in three colours – Black Carbon, Burnt Olive and the brand new Lime Stone – suitable for use in: agricultural and electrical fields, construction sites, and transport and logistics and, last but not least, for leisure activities.
This wide range of use is made possible by the HeiQ Pure antimicrobial treatment, which ensures a cleaner fabric and comfort . And there is more!
The fabric of the LIBRA polo shirt underwent a second treatment with HeiQ Smart Temp technology.
Let's take a closer look!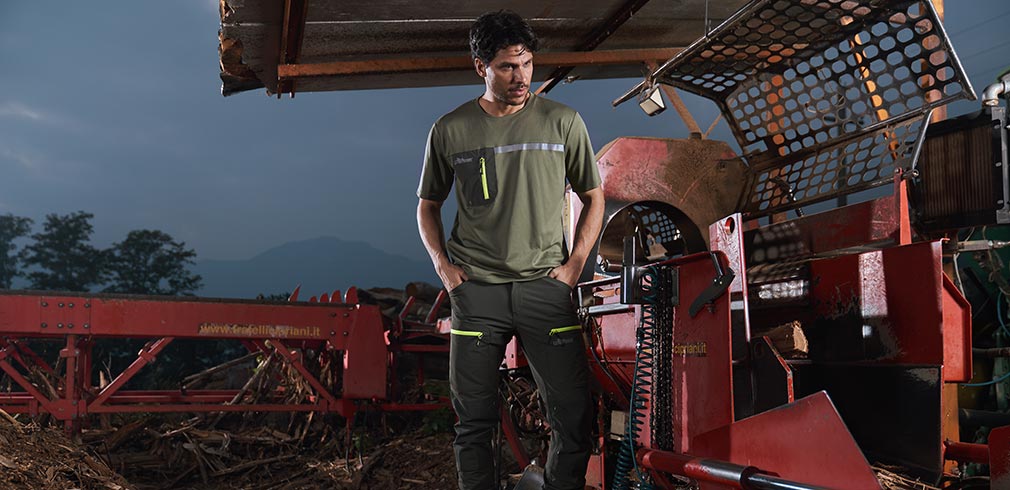 HeiQ Smart Temp is a treatment that allows the fabric to automatically adjust to temperatures.
When body heat is excessive HeiQ Smart Temp is activated automatically to lower the temperature and return to an ideal body microclimate. The fabric reacts dynamically and performs an evaporative cooling function. When the ideal temperature is reached, HeiQ Smart Temp is automatically deactivated. This means having at one's disposal smart temperature regulation which provides comfort and freshness.
Both the fabric of the LIBRA work polo shirt and of the CHRISTAL T-shirt underwent a double treatment with HeiQ technology to offer ideal work outfits that can also double as leisure garments! – highly technological able to ensure maximum comfort.
CHRISTAL is the ideal summer T-shirt, that is fresh and hygienically protected, to work even under the sun and under extremely hot temperatures.
The casual and sport design is enhanced by a reflective band on the left side of the chest and U-Power logo print on the right side. Vertical chest pocket with zipper.
If you want to improve your work days, wear work outfits that can ensure extended wellbeing.
Choose innovative eco-friendly fabrics and highly technological materials designed to best meet your needs; you can find them all in the U-Supremacy range!
U-Power, always a step forward.
Dear reader, we hope you enjoyed the article.
If you want to deepen the subject and want more information, do not hesitate to contact us using the form below. Our technical staff will be happy to answer to your questions as soon as possible.
You ask, U-POWER, answer!