U-POWER SHOES AND WORK CLOTHING FOR MEN: ALL THE LATEST PRODUCTS!
WORK JACKET, HOODIE, SWEATSHIRT, T-SHIRT AND WORK SOCKS FOR A U-POWER STYLE WORK OUTFIT
Workwear plays an important part in helping you perform at your best at work because the comfort, functionality and practicality of the clothes you wear and the warmth you feel can make a big difference.
Through its R&D work, U-Power constantly strives to discover new cutting-edge, technical solutions to target what workers really need.
Let's find out about all the latest products!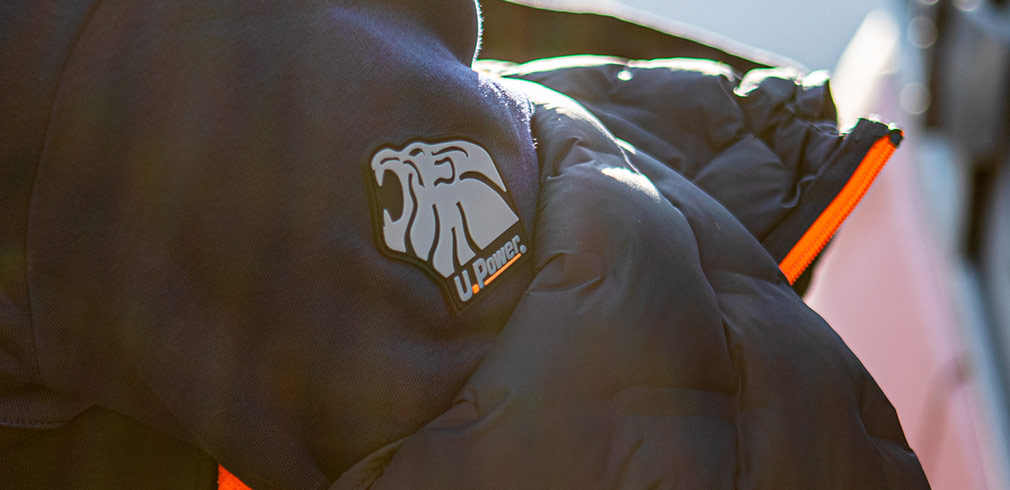 What work jacket should you choose for cold or medium-temperate work environments? Is it better to choose a sweatshirt or a hoodie?
Functional workwear allows the worker to constantly feel at ease, with the right perception of warmth and freedom of movement.
Workwear must also be functional and practical. Lightweight but warm garments when they are needed but breathable when it is hotter; not to mention socks, which make a big difference on how you feel.
Let's take a closer look at the range.
Let's find out about the latest U-Power products with our friend. Claudio.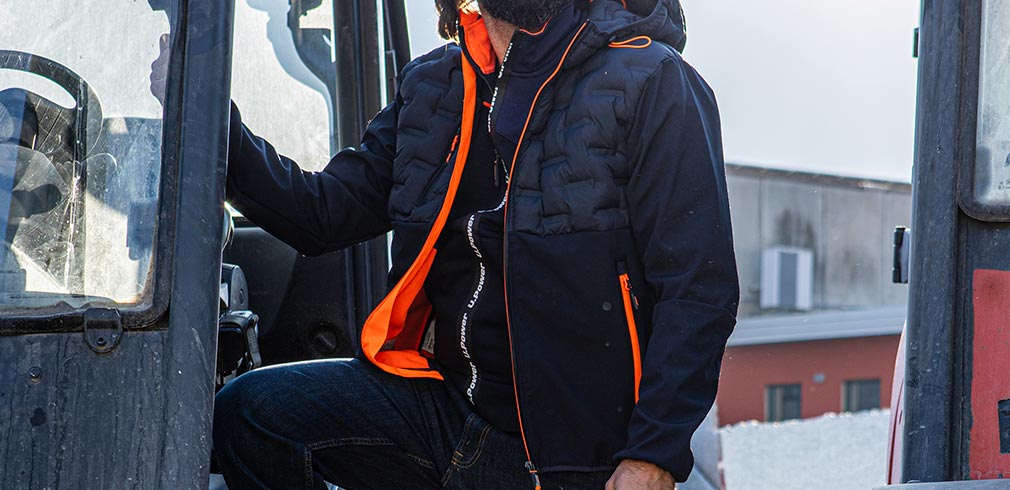 How many times have you found yourself in the situation of having to buy a jacket that you'd like to be able to use for both work and leisure, but can't find anything suitable?
What if we told you that the style we are showcasing today has a design with a casual and sporty look that is ideal even when you are organising an evening out with your friends?
That's right, because SPOCK from the FUTURE range is a highly versatile, water-repellent jacket that is ideal for any time of the day.
SPOCK is a highly breathable, windproof jacket, just what you need for active jobs in cold or medium-temperate environments. The upper part of the chest and the hood feature soft quilted padding with seamless technology, while the inner lining is in nylon and soft, warm microfleece with a screen print. The ultra-linear design makes the style perfect for both work and leisure.
Let's take a detailed look at the features of this hybrid jacket:
✔ Closure with central waterproof zip and fixed and adjustable hood;
✔ Elasticated cuffs and bottom;
✔ Two front pockets with a fluorescent zip;
✔ A breast pocket with waterproof zip;
✔ Two large inside pockets;
✔ Shaped bottom;
✔ Fluorescent piping on the back;
✔ U-Power tone-on-tone logo.
SPOCK is available in three different colours: Deep Blue, Black Carbon and Asphalt Grey.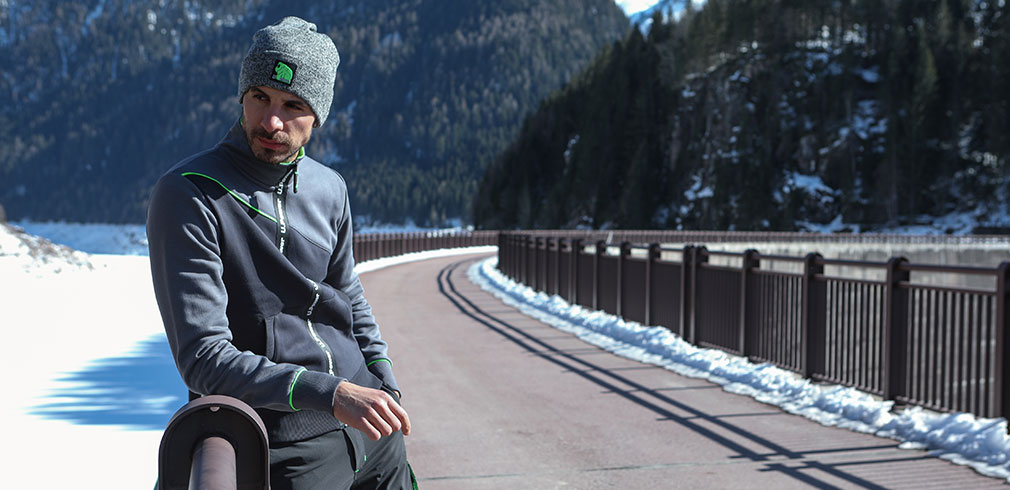 One of the most widely used items of work clothing is undoubtedly the sweatshirt and we have several options to choose from: sweatshirt with zip, hoodie, sweatshirts with prints, etc. But the key features to look for when buying workwear, are undoubtedly breathability, comfort and functionality.
JUPITER and URANUS from the ENJOY range are two highly practical and functional styles. They are available respectively as a hoodie and sweatshirt.
Here again, the linear design makes the two styles perfect not just for work but also for leisure-time casual wear.
Starting with JUPITER, a sweatshirt with a waterproof full-length central zip, featuring a screen print with the U-Power logo for a causal, sporty look.
✔ Adjustable fixed hood;
✔ Two patch pockets with handy slanted openings;
✔ Ribbed, elasticated cuffs and bottom;
✔ Inserts in elasticised fluorescent piping;
✔ Four colour variations: Deep Blue, Black Carbon, Asphalt Grey and Grey Fuchsia.
If, however, you'd rather wear a sweatshirt, then take a look at URANUS. This article has the same features as JUPITER but without the hood, i.e.:
✔ Two patch pockets with handy slanted openings;
✔ Ribbed, elasticated cuffs and bottom;
✔ Inserts in elasticised fluorescent piping;
✔ Available in four different colours: Black Carbon, Deep Blue, Asphalt Grey and Grey Fuchsia.
And to finish, we propose ALIEN, a 100% cotton long-sleeve T-Shirt with a slim fit, ribbed neckline, "lion's head" screen print and embroidered outline of the U-Power logo.
The breathable cotton fabric of ALIEN makes this work T-shirt ideal on its own or under a jacket.
The model is available in different colour variations:
✔ Black carbon with yellow print;
✔ Deep Blue and orange print;
✔ Asphalt Grey with green print;
✔ Grey and Fuchsia print.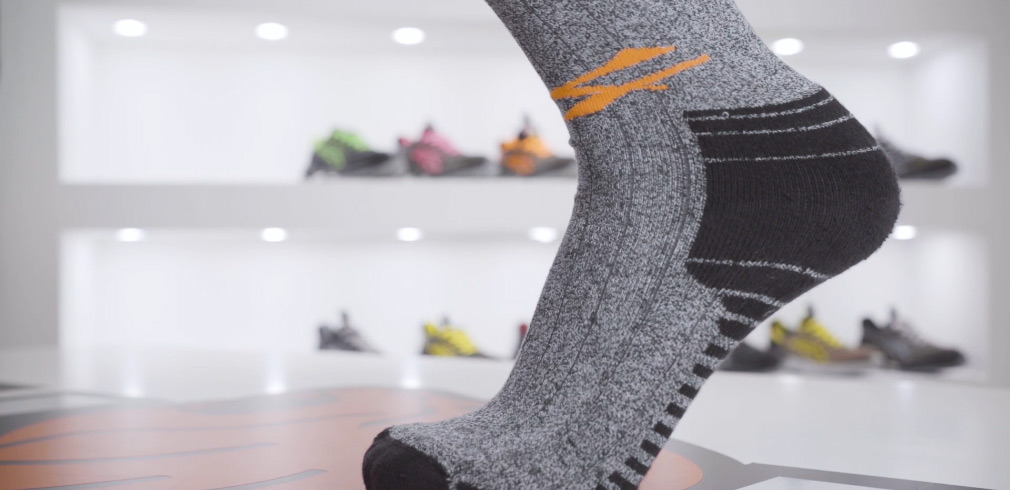 Last but not least, don't forget the socks, the finishing touch for your workwear look and long-lasting comfort throughout the day.
U-Power offers you long and short work socks, in technical and breathable material to fulfil a variety of work requirements, all Made in Italy.
For the winter, we recommend long work socks for protection from the cold, such as the SKY model in Thermolite with multi-dimensional stretch bands featuring graduated compression and Powerfit technology which ensures excellent heat regulation while boosting circulation and relieving fatigue.
These socks have ankle support bands and ventilation channels which guarantee breathability. Antistatic insert and flat seams in the toe for greater comfort and wear-resistant reinforcement on the heel and toe.
GIADY, on the other hand, is a one-size short, technical sock with "Memory Size" technology which adapts to and retains the shape of the foot even after multiple washes to ensure an excellent fit and prolonged comfort.
Giady is also a breathable sock with a cotton footbed and cushioning properties. The flat seams under the sole of the foot reduce the risk of chafing while the single-layer sock top is twist-proof and non-constrictive.
These work socks are suitable for continuous use in dynamic work situations.
Watch the video to find out more!
U-Power: Quality and Technology for workers.
Dear reader, we hope you enjoyed the article.
If you want to deepen the subject and want more information, do not hesitate to contact us using the form below. Our technical staff will be happy to answer to your questions as soon as possible.
You ask, U-POWER, answer!