RED INDUSTRY GREEN: ZERO CO2 SAFETY SHOES
RED INDUSTRY GREEN BY U-POWER, THE FIRST ECO-FRIENDLY ZERO EMISSION WORK FOOTWEAR
Work footwear and eco-sustainability: how to reconcile environmental sustainability and the safety needs of workers who must wear personal protective equipment?
U-Power has created a new line of safety shoes that go beyond the use of recycled materials and renewable sources, since they are also completely carbon neutral.
In fact, the Red Industry Green line is the world's first carbon neutral-certified line and it is U-Power!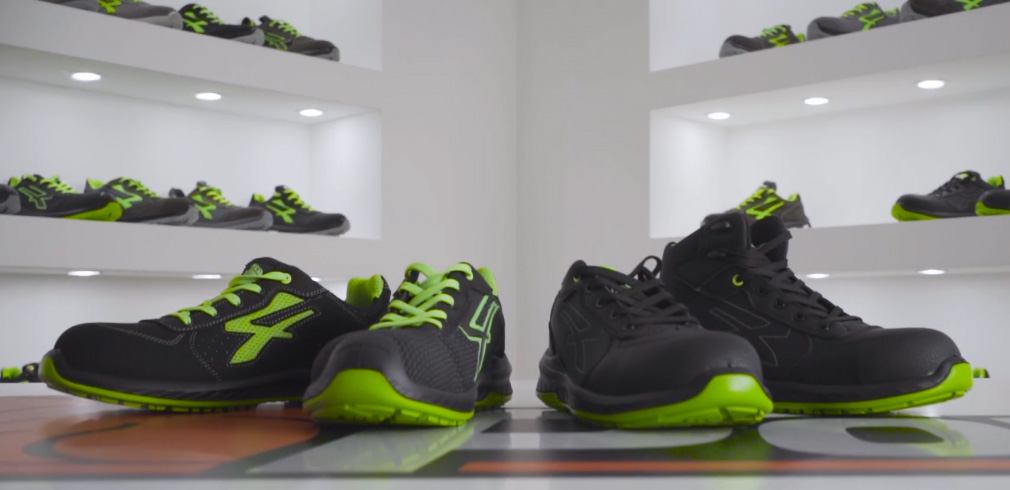 What does it mean to choose carbon neutral safety shoes?
Carbon neutral-certified footwear are made in accordance with processes that have been optimised to achieve net CO2 emissions equal to zero.
This result is achieved thanks to the use of materials with reduced environmental impact, the reduction of carbon dioxide emissions and the offsetting of residual emissions with the purchase of carbon credits certified according to schemes and methodologies recognised by the United Nations.
Let's take a closer look and discuss this topic further!
Let's take a closer look at the line.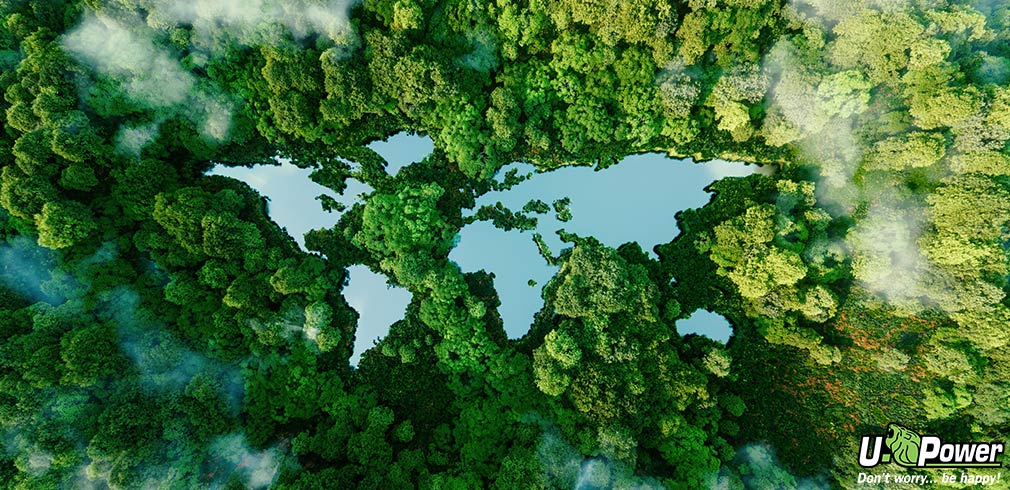 Thanks to the continuous research and development of new technologies, U-Power has managed to optimise the production processes of its RED INDUSTRY GREEN line, achieving the total offset of carbon dioxide emissions resulting from production.
Opting for an eco-sustainable approach means contributing to a circular economy for the environment which minimises waste, reuses and recovers materials, and reduces CO2 emissions, offsetting them with dedicated projects.
RED INDUSTRY GREEN shoes are made with high percentages of recycled material – polyamide and polyester – harvested from the reuse of plastic bottles and post-industrial plastic materials, as well as components from renewable sources, thus contributing to the fight against plastic pollution and the protection of non-renewable raw materials.
But there is more.
For the production of these safety shoes, U-Power has optimised its production processes and embraced the United Nations initiative - Climate Neutral Now - to achieve climate neutrality.
Climate Neutral Now envisages the purchase of certified credits to offset production-generated carbon dioxide, and which are used for specific projects with the aim of neutralising the negative environmental impact engendered by production processes.
The project selected by U-Power contributes across the board to sustainable development goals and fully offsets CO2 emissions by contributing not only to the fight against climate change but also to the economic development of the geographical area where the project is implemented.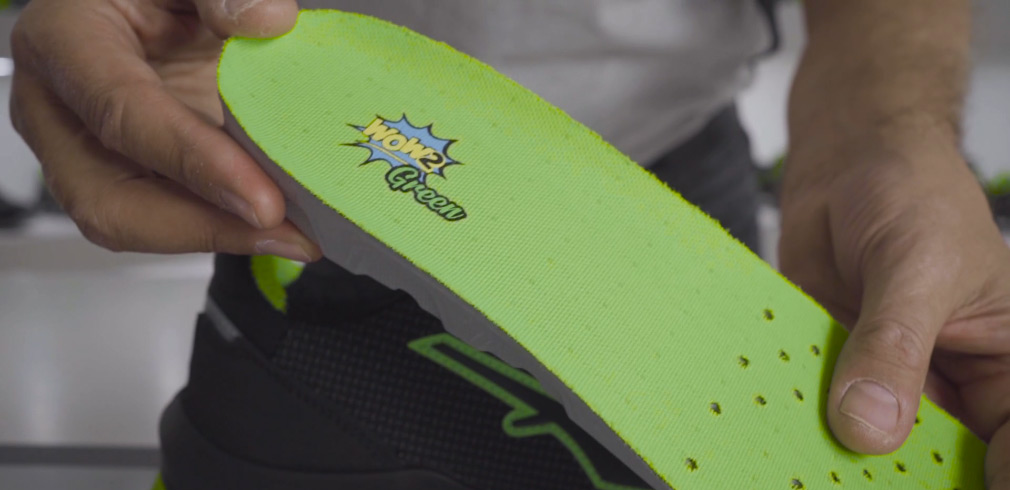 Materials recycled and harvested from renewable sources, optimisation of production processes, reduction of waste and carbon dioxide emissions, and CO2 offsetting have resulted in a certified CO2-offset work footwear that guarantees the same safety and quality parameters as safety shoes made with standard materials.
Let's take a detailed look at the Green materials and technologies used to make the safety footwear of the RED INDUSTRY GREEN line.
All the RED INDUSTRY GREEN work footwear feature:
Made from 100% renewable sources, with performance identical to the standard product. It meets all the most rigorous international safety standards for safety shoes, guaranteeing protection and comfort.
The recycled polyester used is harvested from post-consumer plastic bottles which are Global Recycle Standard certified.
An exclusive air tunnel lining that uses 66% recycled polyester made with post-industrial plastic products, containers and post-consumer bottles.
The eco-friendly anti-perforation system obtained with 59% recycled polyester is totally metal-free and guarantees 100% protection of the sole of the foot.
BASF's PU insole is made from 100% renewable sources. An anatomic and antibacterial insole that can guarantee comfort, balance and shock distribution in the work environment.
And now let's take a look at the individual models and the upper materials that differentiate them.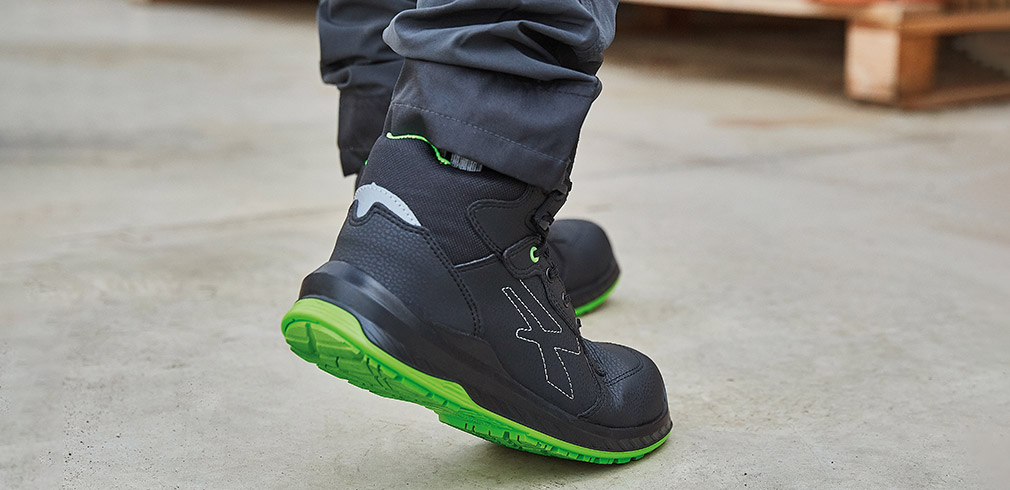 The work footwear of the RED INDUSTRY GREEN line are antistatic and non-slip, and available in Protection Class S1P and S3. They are ideal for use in industrial settings, as well as in transport and logistics operations, in the automotive sector and for use in factories and assembly lines.
Let's take a closer look at the features of the top models.
ISLAND - S3 SRC CI ESD
Protection Class S3 SRC CI ESD safety shoes whose soles protect against cold weather conditions, and featuring a Putek Spider Repet upper that is highly resistant to abrasion.
Putek Spider Repet is made with 68% recycled material and extremely sturdy, although light and guarantees a high standard of performance.
CANYON - S1P SRC ESD
The CANYON model is a Protection Class S1P SRC ESD safety footwear featuring a soft suede microfibre upper an extremely soft, resistant and breathable material made with 50% recycled polyester.
It is a Global Recycle Standard certified eco-friendly fabric that uses recycled polyester obtained from the recovery of plastic and, therefore, contributes to the fight against plastic pollution.
NATURAL – S3 SRC CI ESD
NATURAL is a Protection Class S3 SRC CI ESD low-heeled and comfortable work footwear featuring a sole that protects against cold environments.
The upper is made of soft microfibre which uses 40% recycled polyamide with excellent resistance, strength, breathability and softness properties.
In this case too, the fabric is Global Recycle Standard certified.
NIAGARA – S3 SRC CI ESD
And last but not least, we are showcasing NIAGARA, an ankle-high low-environmental impact safety boot with microfibre upper Global Recycle Standard certified with 40% recycled polyamide.
The ankle-high model protects the ankle and is particularly suitable for outdoor use. Protection Class S3 SRC CI ESD also insulates the bottom of the shoe from cold temperatures (up to -10°C).
Discover all the line models. Make the right choice, choose to support the environment: choose U-Power Red Industry Green!
Dear reader, we hope you enjoyed the article.
If you want to deepen the subject and want more information, do not hesitate to contact us using the form below. Our technical staff will be happy to answer to your questions as soon as possible.
You ask, U-POWER, answer!