WORK JEANS AND SHORT SLEEVE POLO SHIRT TO WORK AT YOUR BEST
STRETCH WORK JEANS: THE SMART CHOICE TO WORK COMFORTABLY
Jeans are among trousers most loved by the public, and suitable both for leisure and for work. Practical, comfortable and durable, they are perfect in all situations.
They are perfect for every season of the year. But what features should they have to ensure ease of movement and extended comfort while working?
U-Power has extended its range of work jeans with new models available in different colours.
Let's take a look!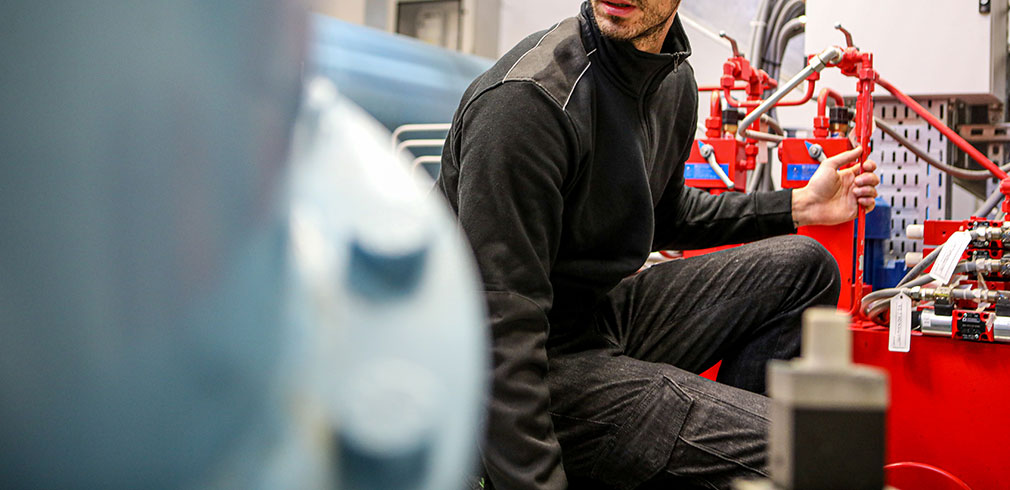 Did you know that denim fabric was created precisely to meet work needs?
Even before becoming a "fashionable" garment, jeans were worn as work trousers thanks to their characteristic resistance to tearing.
Moreover, jeans are extremely comfortable and, if they are made with stretch fabric, ensure an excellent ease of movement.
Finally, they look great, and, although have been designed primarily to meet work needs, are quite suitable for leisure time.
This is the concept of the new U-Power jeans.
Let's discover the new U-Power proposals.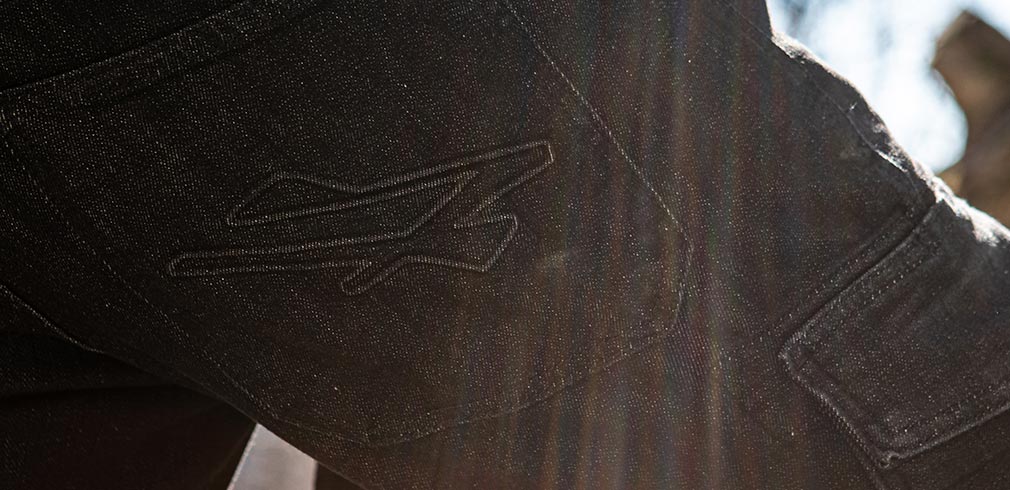 TOMMI are the new work cargo jeans from the Exciting range, a range exclusively dedicated to jeans.
The slim fit style features two large side pockets with snap buttons and eyelets to store pens.
These cargo jeans bear the "Red Lion" embossed logo on the rear pocket and on the right front pocket, while the U-Power logo personalises the front pocket and the rear tag.
But the distinguishing element of the TOMMI jeans is the fabric, which uses 20% recycled cotton in tune with an increasingly greener view that respects the environment.
U-Power is very attentive to the issue of environmental sustainability and, for this reason, Research & Development is steadfastly committed to manufacturing innovative products with a reduced environmental footprint that can give their contribution to the protection of the Planet.
Here is why TOMMI jeans are sustainable trousers. Indeed, recycled cotton derives from processing waste and the reuse of used textile products, with a view to conscious production and respect for the environment, without compromising durability, convenience and comfort.
These cargo jeans come in three different colours - Black Carbon, Deep Blue and Guado Jeans - and are an excellent choice to work in complete comfort all year long.
Moreover, casual line and design make these jeans perfect for leisure as well, which then become a multipurpose piece of clothing.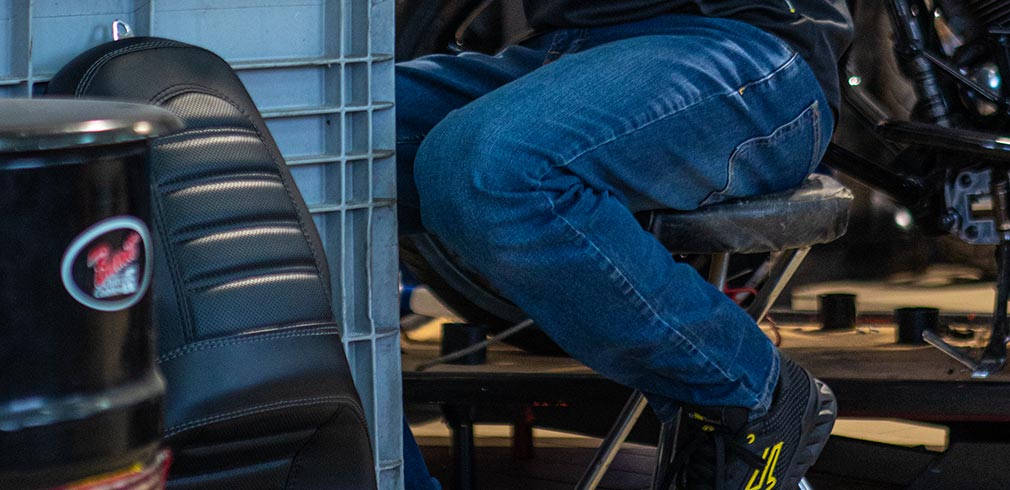 Jean trousers have a long history, do you know where the term blue jeans comes from?
Contrary to what one would think, jeans were not born in the United States, but in Italy and their name comes from "Blue de Genes", namely Genoa blue.
This very durable fabric was brought to the US by way of emigration and then used to make work clothes for miners.
Over time, jeans have become a style of trouser suitable for all settings, and the fabric has been enhanced to become more elastic and ensure greater ease of movement.
Just like ROMEO, the multi-pocket work jeans from the Exciting range.
These multi-pocket work jeans feature five pockets:
✔ Two back pockets, of which one bearing the Red Lion embossed logo;
✔ Two comfortable front pockets;
✔ A small front pocket on the right side, with Red Lion embossed logo.
The stretch fabric ensures great ease of movement and durability over time and, just like TOMMI, these jeans are sustainable, since they are made with 20% of recycled fabric harvested from the reuse of processing waste and used textile products.
ROMEO jeans are slim fit, available in three colour options - Guado Jeans, Black Carbon e Deep Blue – have a minimalist line and are perfect to be worn every day and for any occasion.
Opting for comfortable, durable and eco-friendly trousers is an environmentally friendly choice that responds to the need to reduce environmental pollution, within an increasingly greener perspective.
Choosing your own work clothing with awareness, opting for eco-friendly garments is something we can all do to contribute to a more sustainable future.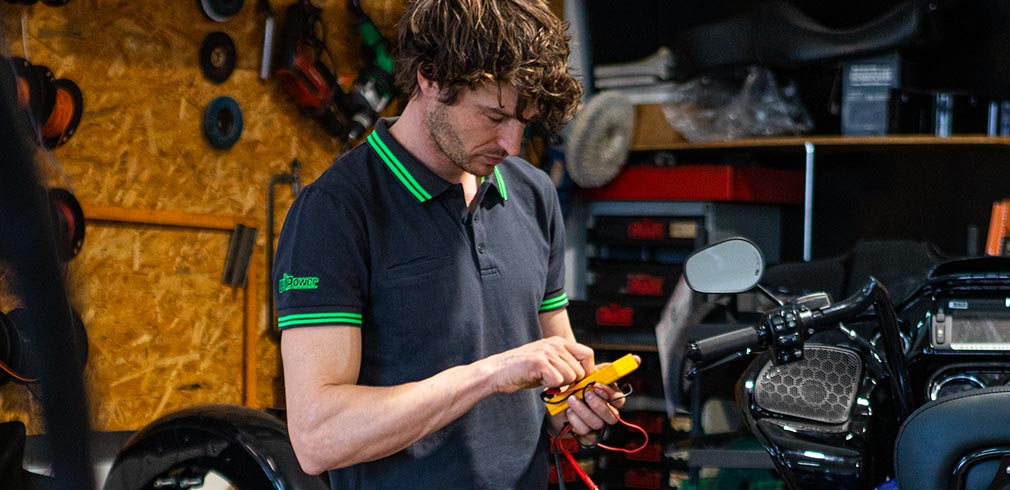 What do you pair work jeans with?
Today, we are proposing a short sleeve polo shirt from the Enjoy range, and, more specifically, the WAY style.
WAY is a stretch cotton polo short with regular fit and side slit at the bottom. It is highly breathable and comfortable, with ribbed cuffs and collar enhanced by parallel lines in contrasting colour.
The model is available in four colours:
✔ Black Carbon with contrasting Fluo Green stripes;
✔ Deep Blue with Fluo Orange stripes;
✔ Asphalt Grey Green and contract Green stripes;
✔ Dark Green with same-colour stripes on neck and Black sleeve cuff.
This work polo shirt, with three-button neck closure and right-side front pocket, is embellished by the U-Power logo embroidery on the right sleeve, and is ideal both in summer and as a garment to be worn under a sweatshirt in other seasons.
Men's work polo shirt also available in the Lady range as women's polo shirt in Grey colour and fuchsia contrasting stripes.
For your work, play it safe: choose U-Power work shoes and garments!
U-Power: Quality, Technology and Design.
Dear reader, we hope you enjoyed the article.
If you want to deepen the subject and want more information, do not hesitate to contact us using the form below. Our technical staff will be happy to answer to your questions as soon as possible.
You ask, U-POWER, answer!