WHY CHOOSE SAFETY FOOTWEAR WITH VIBRAM SOLES
SAFETY FOOTWEAR WITH VIBRAM SOLE: ALL THE BENEFITS OF LIGHTNESS AND EXCELLENT GRIP
One of the main safety features required of safety footwear is the ability to protect against the risk of slipping.
The soles of safety footwear must offer excellent grip, oil resistance and non-slip properties.
The structure of the sole and tread, including the design, are essential to protect the worker during work to ensure the necessary freedom of movement regardless of the conditions of the ground and the surfaces.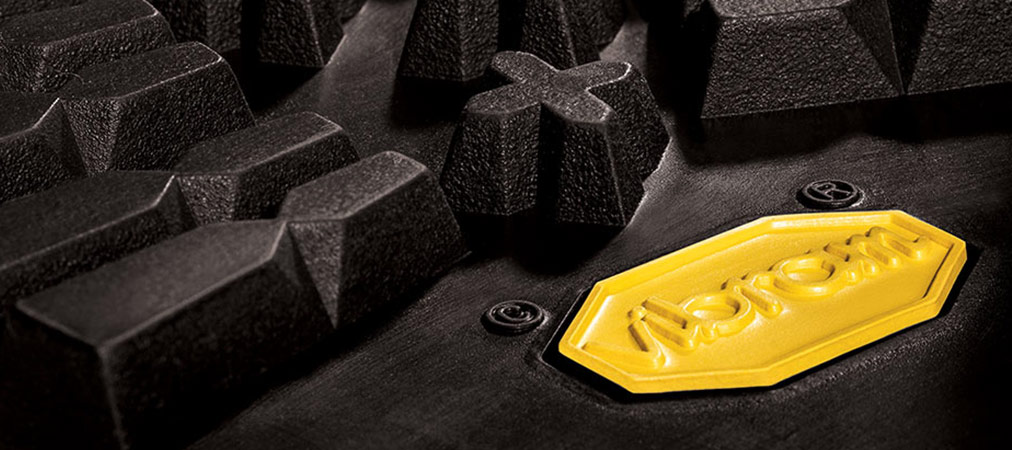 Created to meet the safety needs of mountaineers, the Vibram sole has been developed for the working environments and uses the same technology as tyres to guarantee excellent grip and lightness.
Safety footwear with U-Power Vibram sole guarantee high performance and lightness.
Let's find out together!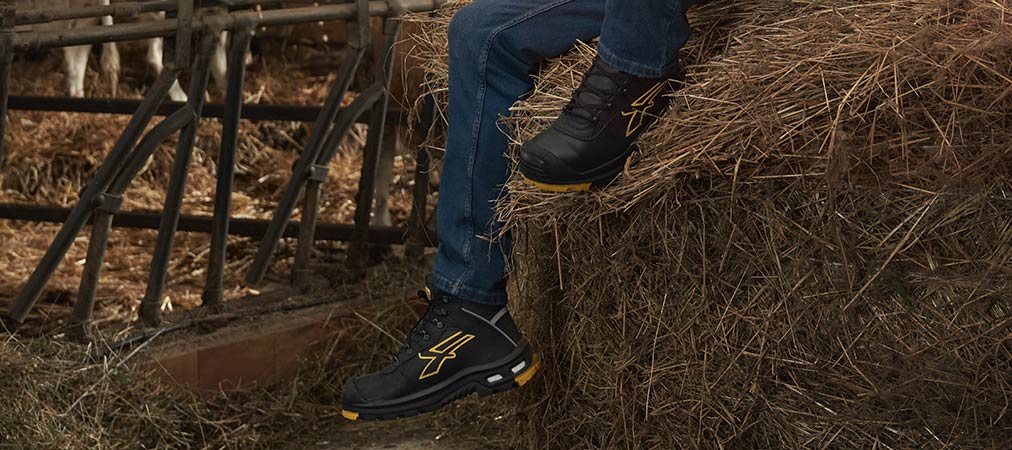 The VIBRAM brand was born from the combination of the first name and surname of its inventor, Vitale Bramani, a CAI (Italian Alpine Club) academic who lost six companions while climbing Punta Rasica due to unsuitable footwear that lacked grip.
This dramatic experience prompted Vitale Bramani to find a solution that would guarantee sole grip and adherence on rock and mud, snow and scree, and at the same time not wear out too quickly and ensure durability.
It was 1935 and Bramani turned to the only Italian company able to provide a solution: Pirelli.
Together with Leopoldo Pirelli, Vitale Bramani designed a sole made from the rubber of the famous tyres but with a tread redesigned for the mountains - a 'tank tread' - capable of exploiting the friction of every corner of the rock and easily allowing debris to be discharged.
The Vibram sole became synonymous with grip, quality, and technology in 1954 with the ascent of K2, the second highest mountain in the world.
Since this success, the Vibram sole has been used in all kinds of fields: law enforcement, the army, safety footwear for workers and... even in fashion!
But what makes the Vibram sole so special?
First of all, the compound, i.e., vulcanised rubber: an elastic, abrasion-resistant and, above all, traction-resistant material that reacts well to both heat and cold, and, above all, the tank structure that is now extremely popular and familiar to everyone.
Let's find out the advantages of Vibram and why U-Power has chosen Vibram soles for its safety footwear.
Continue reading the article!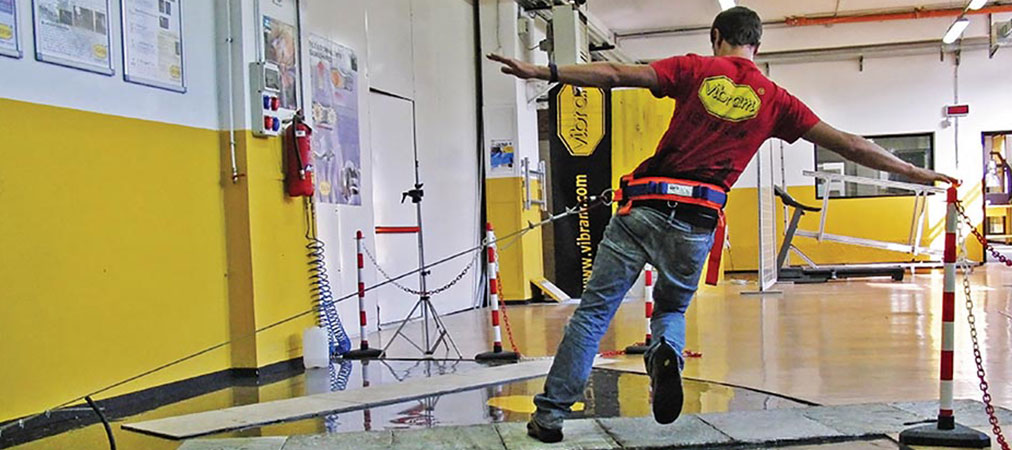 Vibram's Research & Development office has made it possible to create soles specifically for the working environment that meet the requirements of the European Standards and guarantee anti-slip protection, oil resistance and excellent grip.
The secret of Vibram Performance is the ideal combination of exclusive rubber compounds and sole design. Continuous collaboration with biomechanical institutes allows for constant innovation of ranges, volumes, and shapes to ensure state-of-the-art soles that meet the needs of every worker.
Every Vibram sole must pass three levels of testing before it reaches the market:
Conducted in a controlled environment to test slip resistance, abrasion, elasticity, hardness, and density.
Conducted outdoors in the most extreme conditions to verify the effectiveness of sole compounds and designs.
Indoor testing on flat-soled shoes to verify compound performance.
The result is a sole suitable for a wide range of work and safety environments, offering high levels of grip and durability, with excellent heat and tear resistance.
In turn, the sole design ensures a large contact area with the ground, that is grip, with reinforced studs for stability and oil drainage channels to improve grip and safety.
U-Power offers a wide selection of safety shoes styles with Vibram soles in different ranges:
✔ Bau & Building.
✔ Red Industry.
✔ Gore-Tex.
✔ Red Over.
✔ Concept Plus.
✔ Concept M.
✔ Rock n' roll.
✔ U-special.
Let us take a look at the technical characteristics of the styles offered in the individual ranges.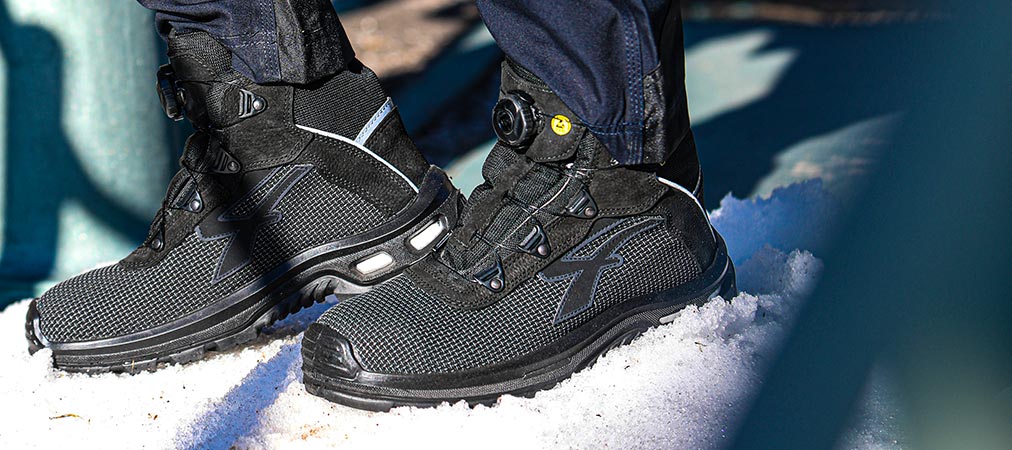 U-Power offers safety footwear with Vibram soles combined with various technologies to meet different working needs, always guaranteeing the high quality standards for which the brand is renowned.
Each footwear range is designed to ensure high performance and maximum comfort.
Let's see them in detail!
This is the ideal range of safety shoes for those working outdoors and in wet environments on uneven terrain and treacherous surfaces. They are made from very durable and soft water-repellent Pull-up leather for greater shoe strength (many styles are also available with Kevlar® DuPontTMstitching)
The Vibram sole is available in four models, two of which are ankle-high - Cosmo and Ronan - and two of which are low-cut - Dave and Yarvis.
All four styles are in S3 HRO HI CI SRC standard protection with special sole protection against the cold (At a temp. of ≤ 10 °C.).
Red Industry is the range of safety footwear with a WOW2 insole that guarantees high performance in terms of comfort, balance and shock distribution in working environments.
The anti-fatigue technology used in the WOW2 insole has a positive effect on the body by improving the comfort of the feet and legs.
There are four styles in the range with Vibram soles:
S3 HRO HI SRC CI safety ankle-high work footwear with Putek® Plus upper with high abrasion resistance.
Low-cut safety footwear with upper made of water-repellent and breathable Putek® Plus in standard protection S3 HRO HI SRC CI.
Grained leather safety shoes, ankle-high, water-repellent with quick slip-off in RS S3 HRO CI SRC standard protection.
It is the low-cut version of the Tenerife style but with a traditional upper (without quick slip-off).
A range of waterproof and breathable safety shoes that keeps feet dry and protected thanks to the Gore-Tex® lining that wicks away sweat and keeps water and rain out.
The Gore-Tex technology has been combined with the Vibram sole in two of the styles in the range: Drop GTX and Climb GTX, both in standard protection S3 WR HRO HI CI SRC and completely 'Metal-Free'.
Red Over is the First-Aid safety footwear range designed for those who work every day in the field in the most adverse conditions. Water-repellent, flexible, lightweight, breathable shoes suitable for all situations to always ensure safety and comfort.
Three styles in the range feature Vibram soles:
Ankle-high safety footwear with grain leather upper, Gore-Tex® lining and midsole with Infinergy® energy recovery technology.
Ankle-high work shoe with Putek® Plus upper, Gore-Tex® lining, Infinergy® technology, and Boa® Fit System lacing.
It is the low-cut version of the Kora style, in S3 WR HRO HI SRC CI standard protection.
The light, comfortable and flexible range of attractively designed safety shoes with Airtoe Composite toe cap and anti-puncture system are ideal for wet and cold environments and especially for the assembly sector.
The Vibram sole is available for the Gravel style, an ankle-high safety shoe in water-repellent grained leather with quick slip-off and for Eruption, the low-cut version (without quick slip-off).
These technical, sturdy, and safe safety shoes are ideal for working on rough terrain and offer high thermal performance, making them ideal for wet and cold environments, mining and assembly.
The Vibram sole is available in two ankle-high and one low-cut version:
Oiled Pull-up leather shoe in S3 HRO HI CI SRC standard protection. Airtoe Composite toe cap and Save & Flex Plus anti-puncture system.
It is the low-cut version of the previous style.
An S3 HRO HI SRC CI safety boot with a smooth, water-repellent full-grain leather upper and cold-insulating inner lining (Thinsulate).
Safety footwear made from lightweight yet robust materials, with breathable mesh linings and inserts for maximum comfort and lightness. Shoes from the Rock n'Roll range are ideal for use in the assembly sector.
You will find the Vibram sole in the Iron style, a safety shoe in RS S3 HRO HI SRC CI standard protection, completely 'Metal-Free' with water-repellent oiled pull-up leather upper, and Thinsulate inner lining to protect against the cold and breathable mesh inserts.
The safety shoes in this range are designed for all professionals working in high-risk environments. Working environments that require safety footwear with specific technical solutions.
Two styles in the U-Special range feature Vibram soles:
Quick slip-off ankle-high safety shoes with water-repellent grained leather upper, Airtoe Composite toe cap, ergonomic steel foil toe plate and metatarsal protection. Standard protection RS S3 M HRO HI SRC.
Ankle-high work shoes in S3 HRO HI SRC standard protection, with water-repellent grained leather upper, ergonomic steel foil and Airtoe composite toe cap.
Choose U-Power quality and experience the safety of Vibram technology!
U-Power, footwear, and workwear.
Dear reader, we hope you enjoyed the article.
If you want to deepen the subject and want more information, do not hesitate to contact us using the form below. Our technical staff will be happy to answer to your questions as soon as possible.
You ask, U-POWER, answer!