ULTRA-LIGHT SAFETY SHOES? CHECK OUT RED LEVE!
LATEST-GENERATION, CUTTING-EDGE MATERIALS FOR LIGHT, SAFE SHOES
When we talk about the "lightness of shoes", we think about seasons and the "weight of the shoe" in the sense of their ability to shield from cold or dissipate heat. Consequently, a "lightweight work shoe" is equated with a summer shoe.
Now, however, thanks to the introduction of highly innovative, latest-generation materials, when we talk about "lightweight safety shoes", we can also include the concept of the "specific weight" of the footwear.
So, how much do safety shoes weigh?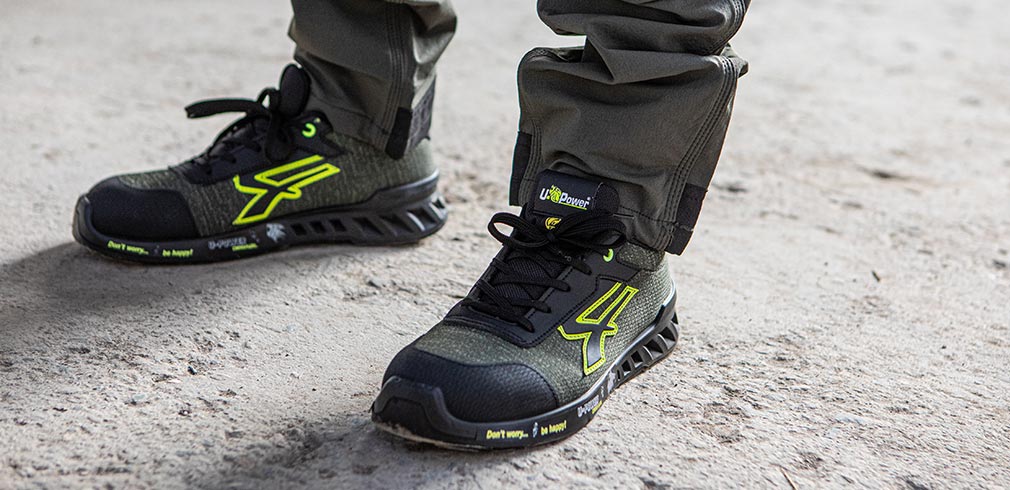 Ongoing research and development into the field of technology with the introduction of latest-generation materials are an important innovation which greatly benefits the well-being of workers.
Especially when talking about safety shoes – they have to protect workers and ensure their safety! - they must include all the necessary protective features such as a toe cap, anti-puncture system, high-grip tread, etc.
All these components, although lightweight, together lead to "extra weight" compared to everyday shoes that the legs of workers, who are required to wear PPE, must bear every time they take a step or move.
What new products has U-Power got in store?
Let's take a look at the styles in U-Power's new ultra-light safety footwear line.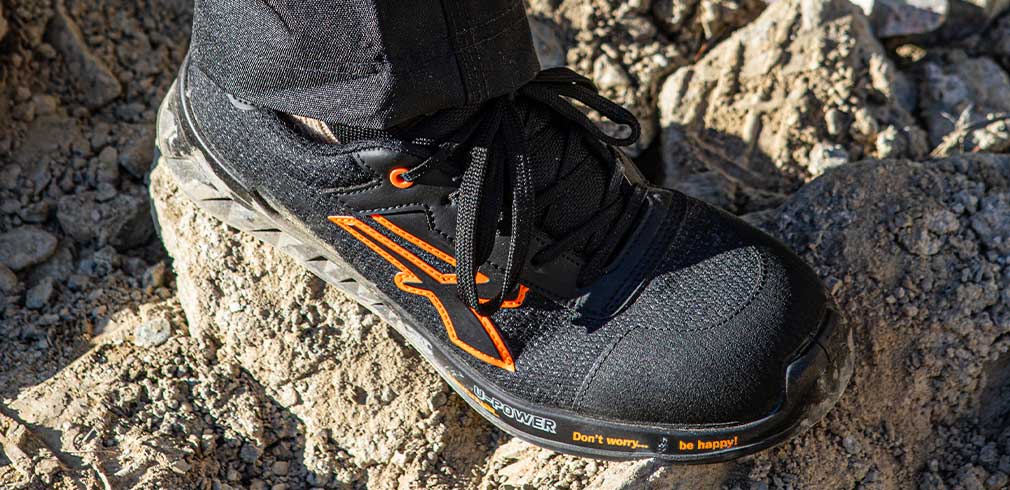 The Red Leve line features 15 models: Ultra-light safety shoes for both the summer and winter, for damp and dry environments.
The models have been designed to meet the increasing demand for safety shoes that guarantee safety but which do not weigh down the legs - muscles and joints - by adding weight at every step: the call for safety shoes!
By making lighter shoes, workers, whose job requires them to use personal protective equipment, expend less energy when moving their feet which benefits the entire body and reduces the perception of fatigue and heavy legs at the end of the day.
You can find Red Leve safety shoes in both the low- and high-top version, in protection class S1P SRC ESD and S3 SRC CI ESD to meet the demand for protection all year round thanks also to the highly breathable and high-performance upper to satisfy different requirements.
Let's take a closer look at the line:
✔ 13 styles of low-top safety shoes;
✔ 2 high-top versions of safety footwear;
✔ 8 styles of safety shoes in protection class S1P SRC ESD;
✔ 7 safety shoe versions in protection class S3 SRC CI ESD;
✔ 7 styles with a breathable nylon upper and soft suede leather;
✔ 1 style in ultra-breathable AirNet® and soft suede leather;
✔ 5 styles of safety shoes with upper in high-resistance PUTEK® star;
✔ 2 styles with a water-repellent, nubuck-effect Microfiber upper.
The safety shoes in the Red Leve range are lightweight, but guarantee the safety that is the hallmark of the U-Power brand and required by European standards.
They are the ideal choice for anyone who is constantly on the move, like warehouse workers, couriers, for the logistics sector and artisans (carpenters, electricians, etc.). Perfect for both men and women with sizes ranging from 35 to 48 (except for the Michelle model which goes up to size 42).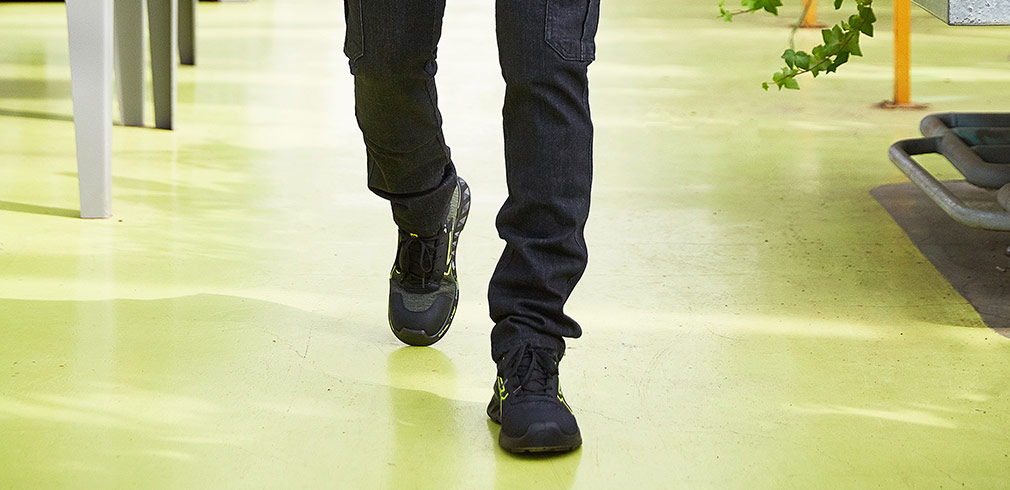 The safety shoes in the Red Leve line are the lightest models in U-Power's RED range, but increased lightness does not mean less safety!
The lightweight materials are the result of ongoing research and the development of new cutting-edge technology, capable of guaranteeing the same performance as traditional materials.
What are the new materials that have made it possible to obtain ultra-light safety shoes?
✔ The light, abrasion-resistant, oil-proof, non-slip, anti-static sole made of latest-generation PU compound;
✔ A new Save & Flex Air anti-puncture system consisting of an extra-light perforation-proof insole;
✔ U-Power Original anatomic insole, made of a soft, comfortable, lightweight and innovative polyurethane compound.
These latest-generation materials, together with the renowned Airtoe® Aluminium toe cap, have enabled us to significantly reduce the weight of the shoe while passing all the protection and safety tests, thus guaranteeing a top-quality and high-performance product.
Without forgetting the WingTex air tunnel lining, of course, which is highly breathable and ensures the comfort and well-being of the foot.
What are the top styles in the Red Leve range?
Let's take an in-depth look at the top-of-the-range models in the new line and their signature features.
MATT – LIGHTWEIGHT WORK SHOE IN PROTECTION CLASS S3 SRC CI ESD
Matt is the style in the range featuring the upper in PUTEK® star which is highly resistant to abrasion, water-repellent and breathable with a protective scuff-proof film on the toe cap.
Contrasting yellow side bands on a black background and U-Power's signature "lion's head" and logo pattern on the sole.
They are highly resistant safety shoes with a non-slip, oil-proof, anti-static and abrasion-resistant sole.
The "CI" protection class ensures the sole is protected from the cold and makes this shoe particularly suitable for use outdoors and in damp environments.
FRANK – LIGHTWEIGHT SUMMER SAFETY SHOE IN PROTECTION CLASS S1P SRC ESD
The Frank style with a black upper in ultra-breathable nylon and toe cap protection with tone-on-tone scuff-proof film is the ideal style for spring and summer. Contrasting yellow side bands and two-tone pattern on the sole with U-Power's "lion's head" and logo.
The air tunnel lining and upper material ensure high breathability and keep your feet healthy, for long-term well-being and comfort even of the hottest of days.
BRUCE – LIGHTWEIGHT WORK SHOE IN PROTECTION CLASS S1P SRC ESD
The same features as the Frank style with a black upper and contrasting orange side bands and patterned soles.
Anti-static, non-slip, abrasion-resistant, oil-proof sole.
It is the ideal low-top summer safety shoe for both men and women: lightweight and cool, including the colour!
ROBIN – LIGHTWEIGHT, COMFORTABLE SAFETY SHOES IN PROTECTION CLASS S1P SRC ESD
Ultra-lightweight shoes with a lighter upper in highly breathable nylon and toe cap with a scuff-proof film in protection class S1P SRC ESD, perfect for hot summer days and dry work environments.
The model features an eye-catching two-tone effect on the upper with a scuff-proof film on the toe cap and side bands. The U-Power logo and "lion's head" pattern complete the design adding a touch of originality and signature style to the model.
Find out about the other models in the range and see how light the shoes are in the Red Leve range.
U-Power: Safety, Quality and…Lightness!
Dear reader, we hope you enjoyed the article.
If you want to deepen the subject and want more information, do not hesitate to contact us using the form below. Our technical staff will be happy to answer to your questions as soon as possible.
You ask, U-POWER, answer!