RED CARPET OR RED360 SAFETY SHOES? WHAT'S THE DIFFERENCE?
CHOOSING BETWEEN DIFFERENT TECHNOLOGIES FOR MAXIMUM PERFORMANCE AND COMFORT
How to choose from the broad range of U-Power shoes?
We will never tire of saying it: work shoes are not all the same!

Even with the same protection class, what differentiates one model from another is a series of parameters that must be taken into account.
The technology used is certainly one of the most important parameters, because it changes according to the specific work needs. So, if you're a worker that spends a lot of time on your feet, in a static position, it is best to opt for RED CARPET technology; whereas if your work is more dynamic and you move around a lot – for example on a construction site – then it will be more important to opt for a technology allowing you to recover energy, such as Infinergy® used in the RED 360 line.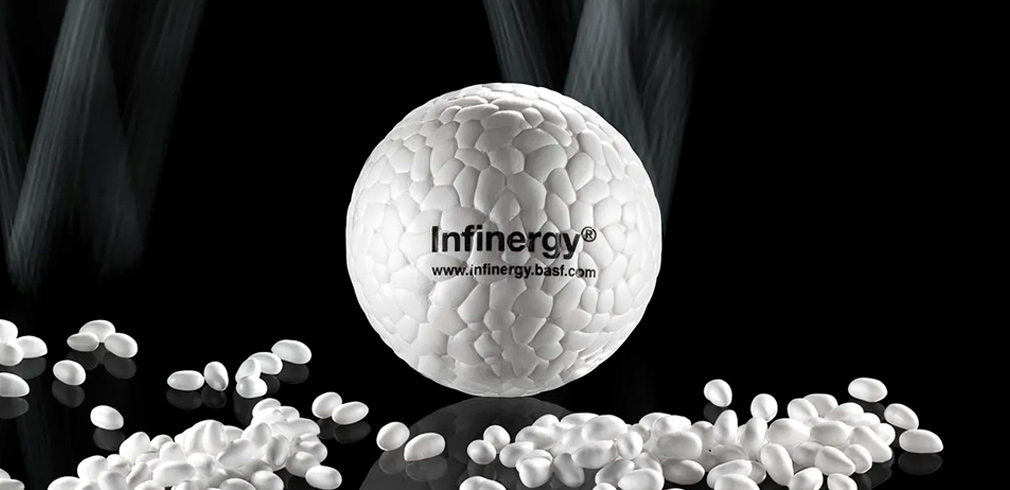 Each U-Power line of shoes is designed and developed to specifically respond to certain work needs.
The situations, environments, and necessary performance are not always the same: some people work long hours on their feet, and by the end of the day have tired and heavy legs; others, despite moving around a lot, such as couriers and forwarders, also spend a lot of time sitting in a vehicle; others still are continuously on the move…
To get the best out of your safety shoes, it is important to consider the situation in which you work, and then opt for the shoe with the right technology able to best respond to your specific needs
Let's analyse the differences between these two lines in the Red World by U-Power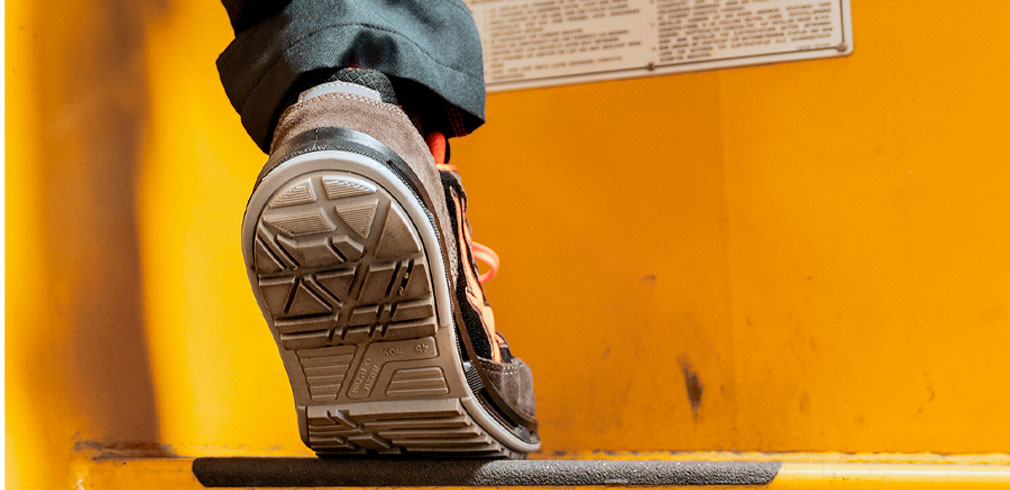 When is it best to choose a safety shoe with Infinergy® technology and one with Red Carpet technology?
Well, the answer depends on the type of work.
The Infinergy® system ensures a high return of energy – well over 55% more! – and meets the needs of those who work in a dynamic context.
Infinergy® is in fact able to transform traditional cushioning into dynamic cushioning.
But what does this mean?
It means that this compound, inserted in the midsole, is able to store and preserve your own energy during idle stages, and then return it during movement stages, pushing the foot forward.
The result is a feeling of less tiredness at the end of the day, greater well-being and more energy to use however you like, with family and friends.
Infinergy® is therefore the ideal solution for those who work in a dynamic context.
If, on the other hand, you spend long hours on your feet, standing in the same position for long periods, RED CARPET technology can help reduce the sense of fatigue and improve work performance.
RED CARPET is a revolutionary compound developed by Basf able to absorb and relieve body stress by reducing trauma caused by prolonged standing at fixed workstations (e.g. assembly lines).
Testing has demonstrated that Red Carpet can reduce leg fatigue, lower back pain, joint and neck pain, improving circulation.
Essentially, in addition to high comfort, RED CARPET also guarantees medium- and long-term benefits.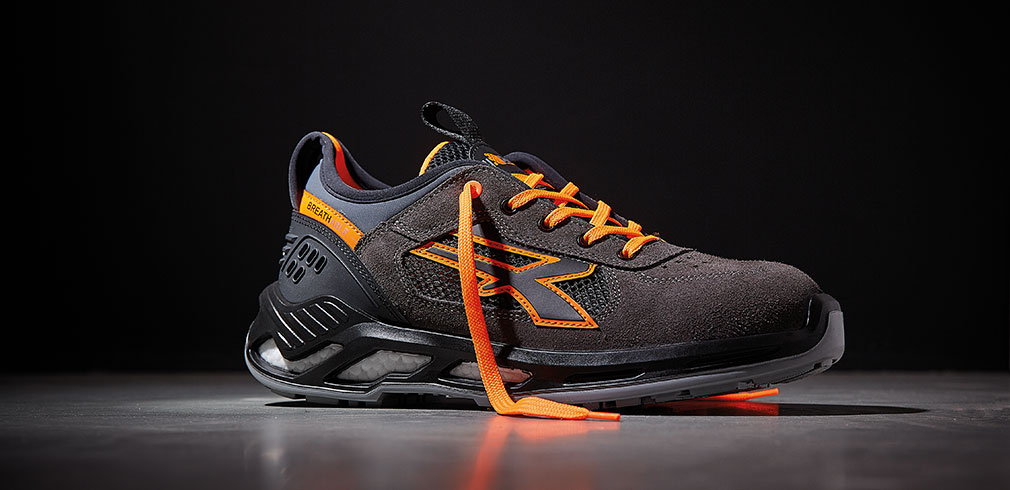 But why choose a work shoe in the RED 360 line?
Because, in addition to the Infinergy® system, this line also offers countless advantages, able to improve comfort, safety, and stability.
Let's look at a few models in detail, perfect for this season:
RYDER and GANG – Protection class S1P SRC ESD
These safety shoes with ultra-breathable nylon upper feature a Lycra® fibre fabric collar and two pull-loops – one on the heel and the other on the tongue – which facilitate the fit and envelop the foot, ensuring a high sense of well-being and comfort. Moreover, just like the other models in the line, they feature a clip with Shield technology, waterproof and breathable, positioned on the heel, which improves the grip and reduces the stress caused by impact and pressure.
The multi-directional tread improves stability, reducing the risk of accidental falls.
BRYAN – Protection class S3 SRC ESD
BRYAN has the same characteristics as RYDER and GANG with the only difference being the upper in PUTEK Star fabric, highly resistant to abrasion, waterproof and breathable, making this model perfect for wet environments and all cases requiring greater resistance of the shoe or protection class S3.
This model also features cold insulation of the sole (CI protection) able to guarantee the well-being of the foot.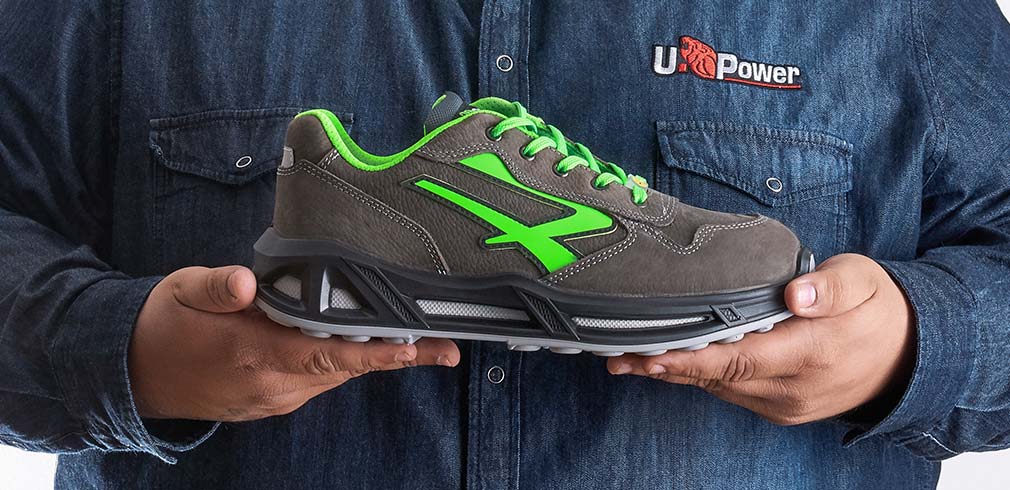 What are the advantages offered by the RED CARPET line?
As we saw at the start of this article, this technology is ideal for those who work in static conditions and for long hours on their feet. U-Power in fact had its shoes in the RED CARPET line tested by Dr. Michele Montagna, who was able to ascertain their efficacy first-hand.
In summary, the RED CARPET insert allows the distribution of weight in such a way as to reduce the load coefficient, improving and optimising the functionality of the entire body. Circulation is reactivated, leg muscle contraction and relaxation is improved, and all the typical ailments of static positions, such as lower back pain, joint and neck pain, are reduced.
And, naturally, safety is always first and foremost:
✔ Aluminium Airtoe with breathable membrane;
✔ Puncture resistant Save&Flex Plus insole, totally "metal free";
✔ Tread in abrasion-resistant, oil-resistant, slip-resistant and anti-static compact PU

For the summer period, U-Power suggests the PUSH CARPET model with breathable nylon and soft suede leather upper, and the SUMMER CARPET model with ultra-breathable Airnet® upper.
U-Power, safety shoes for every profession.
Dear reader, we hope you enjoyed the article.
If you want to deepen the subject and want more information, do not hesitate to contact us using the form below. Our technical staff will be happy to answer to your questions as soon as possible.
You ask, U-POWER, answer!