NEW U-POWER WORK GLOVES: PROTECTIVE AND SAFE
PROTECTIVE GLOVES FOR GENERAL USE, SPECIFIC USE AND CUT-RESISTANT GLOVES
U-Power is expanding its range of products and launching a new selection of safety gloves to complement the current technical line.
A major addition to U-Power's PPE solutions that demonstrates the company's ongoing focus on market needs and worker safety requirements.
A range of certified OEKO-TEX Standard 100 safety gloves that focuses on safety, technical features and functionality. Without forgetting the all-important design and comfort.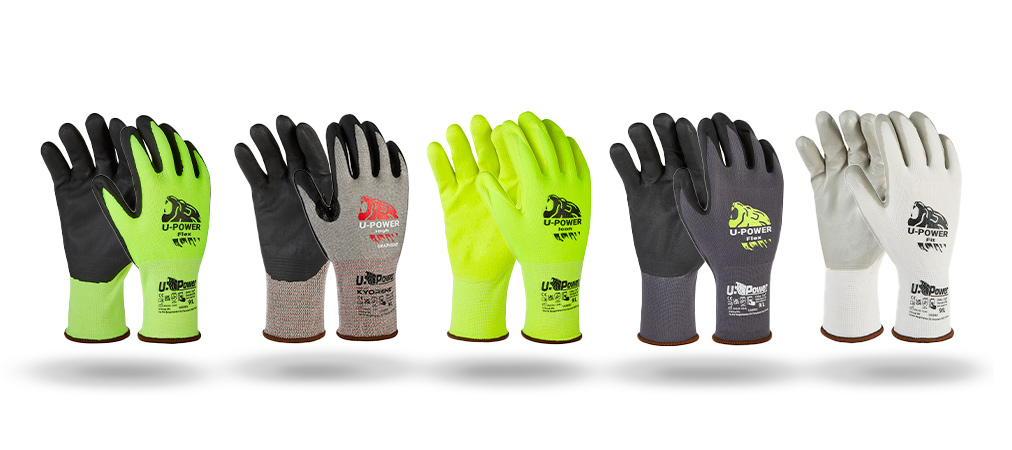 Work gloves are one of the most sought-after items of personal protective equipment and used in a wide variety of work situations.
Since they are classified as PPE, they are governed by specific standards that guarantee their degree of safety and level of protection.
With the introduction of the work gloves range in the catalogue, U-Power meets the need for protection against mechanical and thermal risks, and also the danger of cuts, depending on the style.
Let's take a closer look at the new range of PPE gloves.
Let's take a closer look!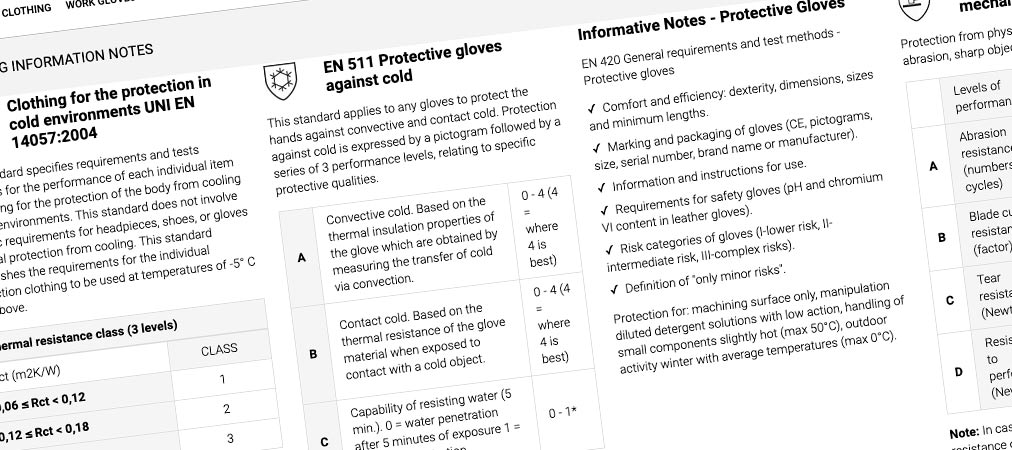 Work gloves become mandatory when your job might pose a danger to your hands. It is up to the employer to assess the extent of the risk, frequency of exposure, and characteristics of each employee's workplace and then, provide protective gloves according to the protection requirements.
PPE gloves are governed by the EN 420 Standard which lays down the minimum requirements for:
✔ Design;
✔ Manufacture;
✔ Material resistance;
✔ Water penetration;
✔ Harmlessness (pH and chromium value tested);
✔ Comfort and efficiency;
✔ Marking and information provided by the supplier.
In addition to this main standard, there are more detailed ones based on specific protection characteristics, such as mechanical risk, cut risk, heat protection, etc., which must be highlighted on the glove with a pictogram.
If employers have to provide their workers with protective gloves, the worker is responsible for checking their state of wear.
Work gloves must be replaced when they lose their original characteristics and no longer fulfil the task of protecting the workers' hands and ensuring their safety.
This is why all the styles of work gloves in the U-Power Gloves range are provided in packs of 12 or 144: convenient for the employer and a guarantee for workers who can count on the availability of the PPE glove when they need to replace it.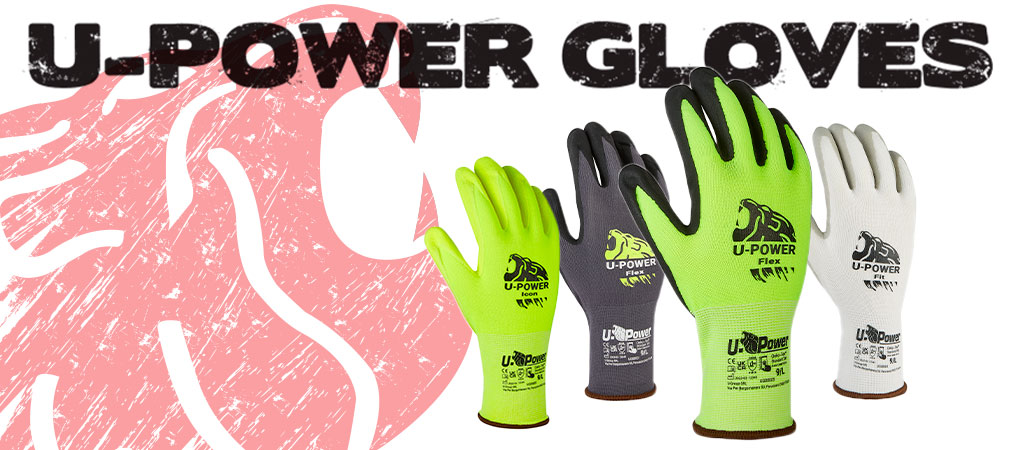 All the protective gloves in the U-Power Gloves range meet the requirements for protection against mechanical and thermal risks and are certified to the respective EN 407 and EN 388 reference standards.
The individual styles differ in the area of use and performance that is guaranteed.
Let's see them in more detail!
ICON – PRACTICAL AND LIGHTWEIGHT WORK GLOVES
ICON is a style of lightweight and practical work glove with a Nylon Spandex lining with level 15 fineness which ensures excellent sensitivity and dexterity when working (level 5 dexterity).
The nitrile micro-foam coating on the palm ensures elasticity and breathability with an excellent grip in both wet and dry conditions, guaranteeing protection, comfort and skin hygiene.
The touchscreen function allows you to use a smartphone or tablet while you work without having to take the gloves off.
This style is ideal in a variety of areas of use and is also practical for the assembly of small parts or handling raw materials, screwing and fastening systems. It is the ideal safety glove for the automotive, aerospace, oil and gas industries, as well as for machinery and equipment, metal fabrication, medical and public utility services, logistics and warehouse storage.
FLEX – CUT-RESISTANT WORK GLOVES
Safety gloves with nitrile micro-foam coating on the palms and Nylon Spandex lining with level 5 dexterity and level 15 fineness. Touchscreen gloves with a firm grip and excellent abrasion resistance.
An excellent fit is guaranteed by the comfortable stretch nylon cuff and hands will stay fresh and dry all day, ensuring comfort and breathability.
Gloves for mechanical work, suitable for both the automotive and aftermarket sector, for using machinery and equipment, for handling in general and adjustment systems for pick-up, fastening, and screwing components, as well as for the aerospace and oil industry. Warehouse worker gloves also suitable for medical and public utility services.
The style is available in two different colours: grey and yellow.
FIT – SAFETY GLOVES FOR LIGHT MECHANICAL RISKS
PPE gloves with comfortable stretch nylon cuffs and nitrile coating, plus a Nylon and Spandex lining to guarantee elasticity and a perfect fit.
The high abrasion resistance and excellent grip ensure a safe grip and practical use. Construction work gloves, for handling machinery and equipment, for metal fabrication all precision jobs, thanks to level 5 dexterity and level 13 fineness.
Comfortable, practical and hard-wearing work gloves with touchscreen function for use with smartphones and tablets whilst working.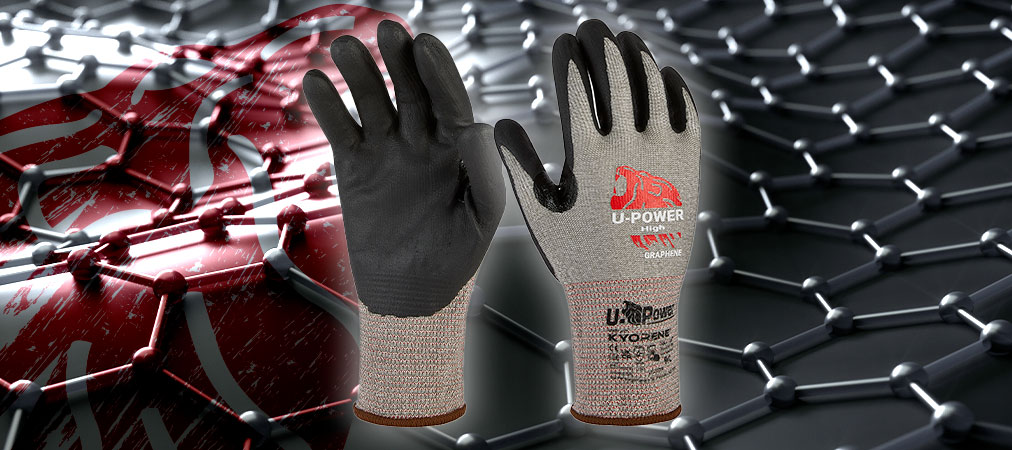 Protective gloves against mechanical risks are not enough in the event of jobs that require manual operations with materials that could cause cuts or injuries. In these cases, you need to use specific PPE which ensure greater resistance without compromising dexterity for handling and precision work.
The reference standard once again is EN 388 which defines the levels of resistance of the glove fabric and other materials.
The cut resistance is determined by tests to measure the number of cycles required for a circular blade to cut the glove at a constant speed and the force at which a 20-mm knife cuts through the material.
The U-Power Gloves range includes a style of certified level B cut-resistant gloves: HIGH.
HIGH is a safety glove that not only ensures level B cut resistance protection but is also highly innovative because its lining consists of Kyorene graphene which can distribute and maintain constant and even heat to the hands.
Kyorene graphene is the thinnest fabric in the world. It is two-dimensional and not only guarantees heat regulation – ideal both for heat retention and dispersion, but it is also excellent for neutralising odours. Its bacteriostatic properties ensure the hygiene and health of your skin.
HIGH is a protective glove with level 5 dexterity and level 13 fineness, plus touchscreen compatibility for using smartphones and tablets. It is reinforced between the thumb and index finger to ensure long-lasting durability.
U-Power work gloves: your ideal "companion" for safety in the workplace.
U-Power, always one step ahead!
Dear reader, we hope you enjoyed the article.
If you want to deepen the subject and want more information, do not hesitate to contact us using the form below. Our technical staff will be happy to answer to your questions as soon as possible.
You ask, U-POWER, answer!