COMFORTABLE SAFETY SHOES? STAY ON TOP WITH RED PREMIUM
NEW RED SAFETY FOOTWEAR: PREMIUM STYLE AND COMFORT!
U-Power presents a new range of safety footwear with a super cool design, 100% Made in Italy.
A dynamic and fresh look with a nod to fashion without forgetting comfort and innovation.
That's right because the new Red Premium range is not just attractive but also extra comfortable to wear, even when the going gets tough at work.
Safety shoes suitable for workers on building sites, in repair shops, logistics, and on production lines, to mention just a few sectors, with a Premium comfort level.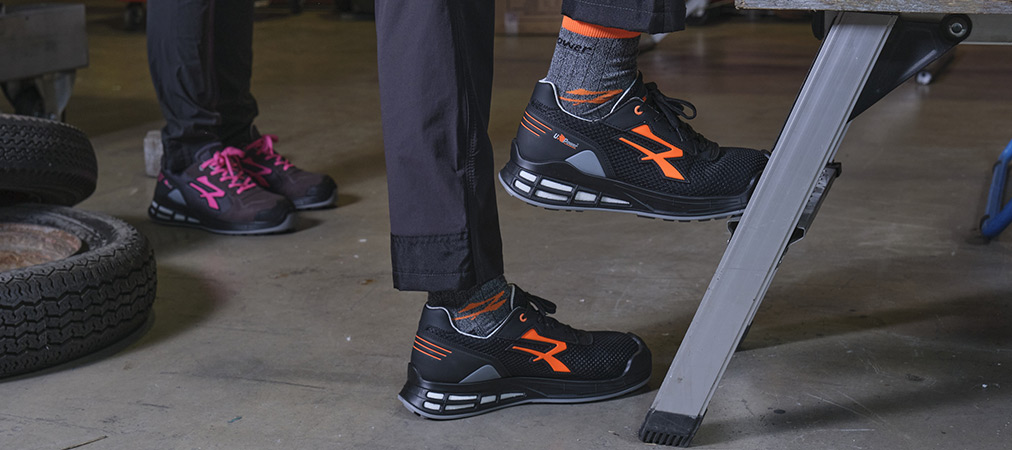 How many hours do you wear your safety shoes?
Probably not less than eight hours a day for a minimum of five days a week. When work shoes aren't sufficiently comfortable, they can cause problems for your feet, legs and joints in the long run.
So, what makes a safety shoe comfortable while working?
The comfort of the footwear firstly depends on the design, starting with the shape of the shoe and the presence of seams, as well as the internal components typically found in safety shoes.
The quality of the materials, design and technology are the guarantee of long-lasting comfort.
Let's take a look at the range!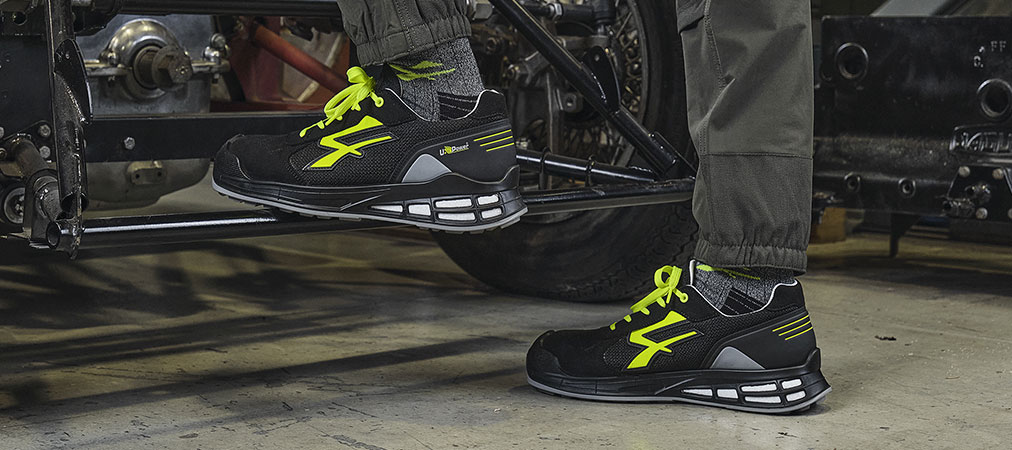 The Red Premium range consists of 16 styles designed to meet all your work needs.
The styles differ in terms of standard protection - from S1P SRC ESD to S3 SRC CI ESD -, in the material used for the upper and colour (high-top safety shoe with ankle protection or low-cut version) but all the styles are designed for comfort: Premium comfort!
A soft and lightweight insert made of a combination of foams consisting of closed cells and thermoplastic polyurethane particles, placed between the tread and anti-perforation sole, which helps to save energy by relieving fatigue and allowing for greater freedom of movement, lightness and a decrease in musculoskeletal disorders.
A technology, inspired by the running world, which transforms traditional cushioning into dynamic cushioning, by exploiting the movement of the foot to store energy when it hits the ground and restore it when the foot pushes forward.
Infinergy® guarantees the return of over 55% of energy at every step and is ideal for all workers who have to work kneeling or crouching down, or frequently walk short or long distances, go repeatedly up and down stairs or maintain the same posture for long periods and perform repetitive movements.
SOFT CALF SKIN LINING
The calf skin lining ensures a high level of comfort and prolonged well-being thanks to the special nature of the leather which has an extremely natural feel and appearance. The slight finish on the leather gives it unique characteristics and breathability which is increased by a less invasive and polluting tanning method compared to traditional methods.
All the leather production phases are LWG certified (Leather Working Group) and adhere to a strict protocol to ensure high quality standards with a constant focus on respect for the environment.
This means that the leather used for Red Premium safety shoes comes from traceable cattle farms and that the tanning process is carried out by companies that comply with environmental protection criteria and a sustainable circular economy throughout the supply chain.
U-POWER ORIGINAL ANATOMIC INSOLE IN SOFT WHITE LEATHER
The insole is the base on which the foot rests and is one of the elements which determines the perception of prolonged comfort and well-being of the foot.
U-Power Original is a self-modelling insole with antibacterial and anatomic properties, that has been made lighter, to avoid weighing the shoe down and ensuring freedom of movement and a sensation of overall comfort.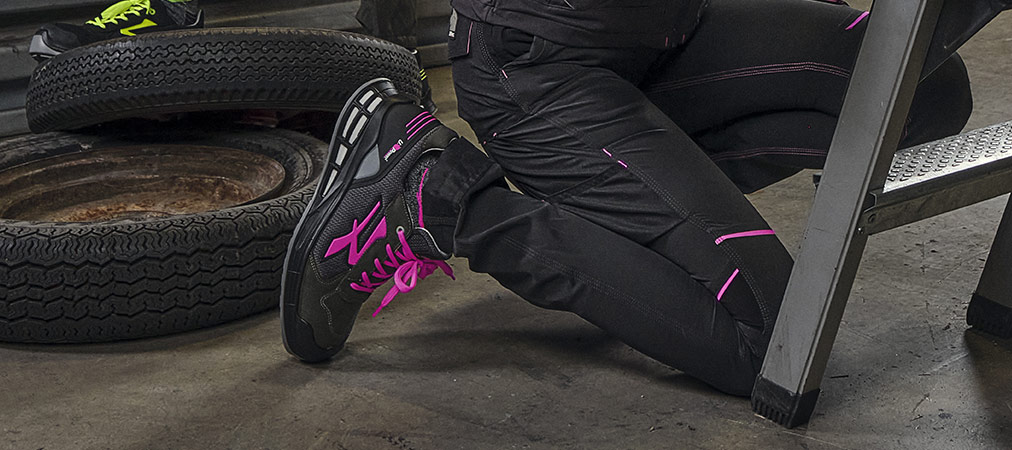 The U-Power design, consistently focusing on the latest trends, never disappoints, and with Red Premium, demonstrates how safety footwear can be extremely comfortable and attractive as well!
Red Premium is not only a safety footwear range that meets all protection and safety requirements, as well as being comfortable and light, it is also an attractive safety shoe with a fresh design, developed to meet the demand for style and visual appeal as well.
The uppers play with contrasts in colour and material, that are always innovative with a high-performance, plus an eye-catching look in perfect U-Power style.
The range, consisting of 16 styles, is divided into low-cut and high-top safety shoes.
LOW-CUT SAFETY SHOES
12 styles, all with a polyurethane reinforced scuff cap, U-Power logo and contrasting colour details on the heel and compact PU tread with abrasion-resistance and anti-oil, non-slip, and anti-static properties. The rear part of the heel features an eye-catching design which adds a sense of movement and character to the footwear.
The upper part of these low-cut shoes differs in the material used for the upper, i.e.:
HIGH TOP WORK SHOES
4 styles with S3 SRC CI ESD standard protection plus special protection of the sole from the cold (at temp. ≤ 10 °C) and ankle protection. The tread is again made of compact, abrasion-resistant, non-slip, anti-static and anti-oil PU, featuring the U-Power logo and contrasting colour details in the rear of the shoe.
Let's take a closer look at the upper:
Upper made of ultra-strong, water-repellent, breathable Putek with a reinforced polyurethane scuff cap, and contrasting colour side bands and laces.
with Putek that is highly resistant to abrasion, breathable, and water-repellent with contrasting colour side bands and laces and reinforced polyurethane scuff cap.
Upper made of soft, tumbled, water-repellent microfibre, with a reinforced polyurethane scuff cap and side bands and laces in a contrasting colour.
Water-repellent work shoe, made of black, soft, tumbled microfibre and tone-on-tone laces with a reinforced polyurethane toe cap and side band contour in a contrasting colour.
All the styles are available in size 35 to 48 (except for the IVY style, specifically for women with sizes up to 42) and are ideal for both men and women.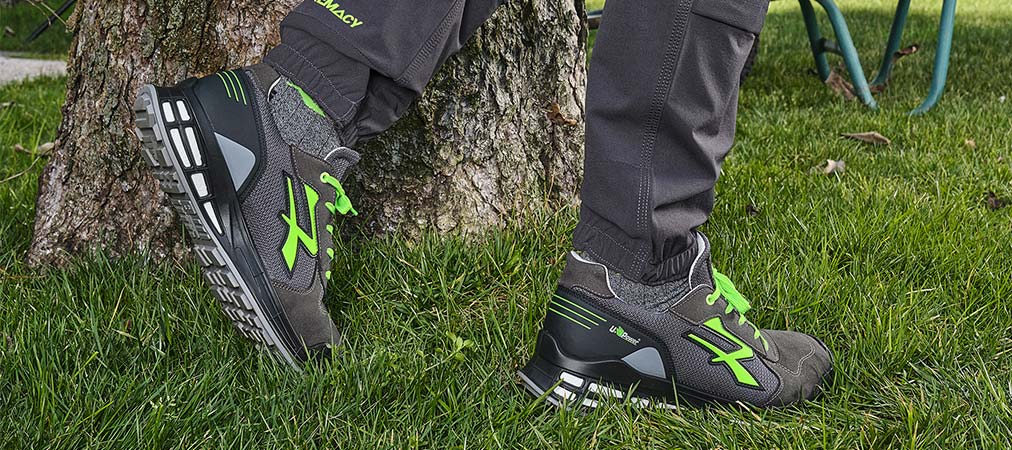 Now, let's look at the top-of-the-range style, ideal for this season and suitable for different fields of use, such as on building sites, for mechanics, plumbers, and electricians, in logistics and the warehouse, for industry in general, plus work in factories and assembly line workstations.
Men or women's safety shoes, with breathable nylon and suede-effect microfibre upper and reinforced polyurethane scuff cap, and soft, white ultra-comfortable calf skin lining.
Protection is guaranteed by the Airtoe Aluminium toe cap and Save & Flex® Plus anti-perforation system, which is totally "metal free" and sewed directly onto the upper to ensure 100% protection of the sole of the foot. While the Infinergy® system ensures a high return of energy, cushioning and anti-fatigue and anti-shock effect.
The U-Power Original insole in soft white leather increases the perception of well-being thanks to the anatomic, self-modelling and antibacterial properties.
Check out the Red Premium range of safety shoes with a level of comfort and style that can only be defined as Premium!
U-Power: safety, protection, comfort and design.
Dear reader, we hope you enjoyed the article.
If you want to deepen the subject and want more information, do not hesitate to contact us using the form below. Our technical staff will be happy to answer to your questions as soon as possible.
You ask, U-POWER, answer!